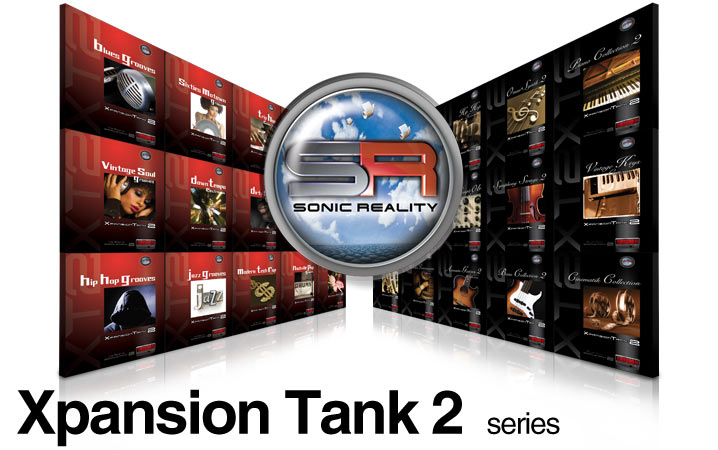 SampleTank "Refill" sounds from the Sonic Reality Vault
High-quality add-on sound libraries for SampleTank 2 for your Mac & PC
Refresh Your Creative
What if you could get over 10,000 new ideas to spark the inner musings of your creative musical gene with a simple click of the mouse? What if you could get fresh new sounds, loops and textures for your next awe-inspiring composition in just minutes, right from the comfort of your very own studio? Now you can with the Xpansion Tank Series of sound libraries for SampleTank.
The Xpansion Tank 2 series from IK Multimedia and Sonic Reality is a collection of 30 individual high-quality sound libraries for SampleTank, consisting of 15 multi-sampled and 15 loops titles, totaling nearly 10,000 new sounds and a staggering 30 GB of samples.
Each individual collection contains between 500 megabytes to over 1 gigabyte of loops and samples and offers "production ready", inspiring, high-quality sounds for making music in any style from Pop to Hip-Hop to Rock, Jazz, Country, Electronic, Film scores and more!
The multi-sampled titles offer almost 4,000 instruments sounds with a selection of Pianos, Guitars, Bass, Drums, Strings, Synths, Vintage Keyboards, Vocals, Electronic and World instruments taking full advantage of SampleTank 2 's highly flexible and efficient sample engines with high-quality integrated effects.
The Xpansion Tank Collection spans 30 titles, and includes:
---
How it Works
Getting fresh has never been easier
So how do you get these creative catalyst jewels? Simply select and purchase the collection of your choice, download it from your IK Multimedia user area, then run the installer. Select your SampleTank instruments folder as the destination for your installation and BAM! — you're done.
Recording and Getting Real.
The 6,000 loops are provided as either construction kit "menu maps" for instant song building with drum grooves, bass lines, rhythm parts which are in sync across the keyboard or as individual loops broken down into "slice maps" that can be played in real time as well as by the associated MIDI file per loop in a sequencer for total flexibility in tempo and feel.
What if I don't have SampleTank, but want to get one of these collections?
Glad you asked! All Xpansion Tank collections come with a handy dandy version of SampleTank (SampleTank 2 XT) for FREE! That's right! FREE.
What is SampleTank XT?
Again, glad you asked. Even if you don't currently own a version of SampleTank, you'll get one with your Xpansion Tank purchase. SampleTank 2 XT is a fully operational, complete version of our award winning SampleTank sound workstation engine. The only difference between SampleTank 2 XT and the full version of SampleTank is simply the sounds included. Once you have SampleTank 2 XT, you don't need to reinstall it if you decide to purchase additional libraries. You simply install the new libraries into the same directory and all of your sounds are instantly available. You can read more about the SampleTank Engine here, but here are a few quick features:
1GB sounds included
16 part multitimbral sound module with layerable parts
3 synth engines: newly enhanced STRETCH™ and Pitch-Shift/Time-Stretch (PS/TS) plus traditional Resampling
Powerful Multi-Effects section that includes 5 effects per Part, 5 Send and 5 Master effects
33 built-in DSP effects
Part and Master Loop Sync
Independent Part and Master Volume/Pan controls
Works as a standalone application as well as a plug-in in Mac OS X (Universal Binary), and Windows (XP/Vista/7/8)
Supported plug-in formats: VST, RTAS, and AU
Imports WAV, AIFF, SDII, AKAI S-1000/3000 and SAMPLECELL instruments directly from the plug-in
Collections