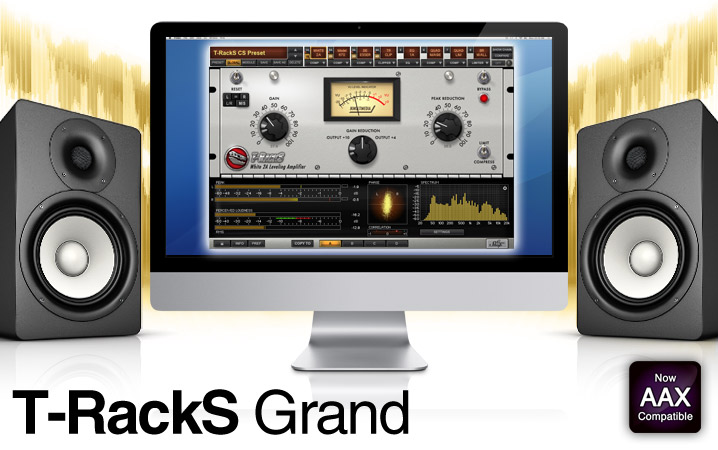 Your mixing and mastering grand collection
T-RackS Grand is a comprehensive, high-quality mixing and mastering plug-in suite that provides a versatile set of sonic tools for sculpting individual tracks and full mixes. The package includes T-RackS Classic and digital modules, spot-on vintage gear emulations, and our Quad series of mastering-quality multiband processors.
Click on the images below to read more about the gear included.
| | | | |
| --- | --- | --- | --- |
| | | | |
| British Channel | Black 76 Limiting Amplifier | White 2A Leveling Amplifier | Vintage Tube Compressor/Limiter model 670 |
| | | | |
| Quad Comp Multi-band Compressor | Quad Lim Multi-band Limiter | Quad Image | De-Esser |
| | | | |
| Vintage Tube Program Equalizer | Opto Compressor | Brickwall Limiter | Linear Phase Equalizer |
| | | | |
| Classic T-RackS Compressor | Classic T-RackS Multi-band Limiter | Classic T-RackS Clipper | Classic T-RackS Equalizer |
Whatever kind of music you're producing, the power, precision and variety of T-RackS Grand give you the tools you need to make your music stand out from the competition. What's more, our new Custom Shop feature lets you purchase additional modules at your discretion, such as our Classik Studio Reverb collection, or the four most recent processors we added: Master EQ 432, based on what is considered to be the "gold standard" in mastering equalizers; Precision Compressor/Limiter, an iconic compressor based on the legendary design from a British manufacturer; Bus Compressor, a classic master bus compressor; White Channel, an emulation of the EQ and dynamics from a channel strip on a popular British console; and Tape Echo, which reproduces the sound of the most famous tape echo unit of all time.
New and notable
Five new high-quality, precision processors highlight T-RackS Grand. Four belong to our new multiband Quad Series: Quad Comp, Quad Lim, Quad Image and De-Esser. These intuitively designed units let you split the signal into a maximum of four user-adjustable frequency bands (3 for the De-Esser) that can be processed individually, giving you surgical control over your audio.
Quad Comp and Quad Lim can operate in either stereo or M/S mode, providing additional flexibility to zero in on a very narrow part of your audio. Quad Image lets you precisely adjust the stereo image, and De-Esser gives you three separate frequency bands of de-essing power, enough to tame the most vexing sibilance.
The fifth new processor is British Channel, which is a spot-on emulation of a channel strip on one of the famous mixing consoles of all time. Use it to imbue your music with the sound that's on thousands of hit songs. You get 4-band parametric EQ, plus high- and low-pass filters, and the dynamics section includes a VCA-type compressor and an independent Expander/Gate section. British Channel brings the sound of a large-format analog console to your studio.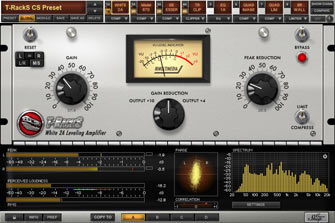 Vintage, modern, and more
The modules in T-RackS Grand let you process your sound in myriad ways. Want to add a vintage tube vibe? Use the Fairchild®670 compressor or the Pultec® EQP-1A tube program equalizer. Want to level out a vocal performance? Use Black 76 or White 2A, emulations of classic processors, which were recently updated to be even more accurate. Want precision processing of specific parts of the frequency spectrum? Use one of the Quad Series processors.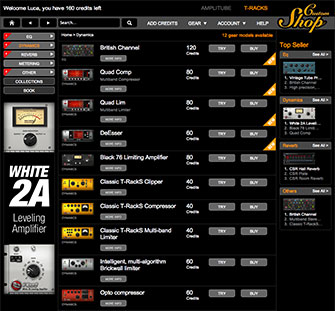 Future-proof your studio with Custom Shop
The Custom Shop feature is one of the most exciting aspects of the new T-RackS. It's built into the DNA of the software, and it lets you add additional modules from our ever-growing collection, and purchase them from within the T-RackS application. It's like having a cool store for high-end outboard gear right on your desktop – and it's always open!
With new modules being added regularly, you'll be able to get the new gear you want, when you want it, and keep your T-RackS collection future-proofed. What's more, the Custom Shop's "Try Before You Buy" feature lets you download fully functioning modules for three days to audition them.
Gorgeous tone, in a DAW or on its own
You can open T-RackS modules as single plug-ins inside your DAW, or under an integrated plug-in shell that can host up to 12 modules at a time in 8 plug-in slots, and create complex signal chains. If you'd prefer, you can run T-RackS as a standalone application. If you have IK's ARC System 2, when you open T-RackS in standalone mode, the ARC processing will be seamlessly integrated into the signal chain.
---
T-RackS Grand at a glance

What's new in T-RackS Grand

16 total processors: 10 dynamics, 3 equalizers, channel strip, de-esser, imager
Modules include T-RackS Classic processors, T-RackS digital processors, 4 Quad processors, and British Channel, an emulation of a classic mixing desk
Modules can be opened under T-RackS shell or as individual plug-ins
Custom Shop functionality lets you purchase additional modules from inside the program
Complete built-in metering section with Peak, Perceived Loudness, Phase, and RMS meters, plus a Spectrum analyzer with Peak, RMS and Averaging indicators
Standalone integration with ARC System 2 processing
All processors available as individual plug-ins
64-bit native support
32-bit 192 kHz support
High-fidelity oversampling for high-quality audio processing through the entire signal path
SCC™ technology coupled with IK's unique DSM™ technology provides the most realistic software emulation of vintage gear to date
Extremely easy to use, with style-based presets, full chain visualization, one-click single module or chain bypass, "compare" function and more

32- & 64-bit AAX Compatibility. Will run in Pro Tools 11, and under AAX in Pro Tools 10
Quad Series processors including Quad Comp, Quad Lim, Quad Image, and De-Esser
The new British Channel, an incredibly accurate emulation of the dynamics and EQ section of a channel strip from one of the most legendary mixers of all time
Custom Shop feature, which can be turned on from within T-RackS, lets you browse, audition, and purchase new modules from our ever-expanding collection
---
Put the power of T-RackS in your tracks
T-RackS is available in 3 versions to suit your mixing and mastering needs. Whether you're looking to tighten up individual sub-mixes, polish a mix for demo or master an entire album, there's a T-RackS version for you.
Version

Gear included

Price

T-RackS Grand
16+ metering suite
T-RackS Grand Upgrade from
Deluxe, Classic, British Studio Series, Vintage Compressors Bundle, Multiband Series, Standard, CSR and former Singles
16+ metering suite
T-RackS Deluxe
9+ metering suite
T-RackS Classic
4+ metering suite
T-RackS CS Free
1+ metering suite
Click here to read more about each version.
---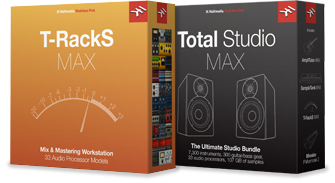 Take it to the MAX
Already have T-RackS Grand? You're eligible for a discount upgrade to our MAX range of complete bundles: T-RackS MAX and Total Studio MAX.
T-RackS MAX is the most comprehensive mixing and mastering suite. It includes 33 T-RackS modules with everything from contemporary classics like the multiband Quad compressor series to timeless favorites like the Vintage Tube Compressor and EQ P series.
Total Studio MAX is a collection of all the gear, processors, sound libraries and software available in IK's AmpliTube MAX, T-RackS MAX and SampleTank MAX plus Miroslav Philharmonik 2.
---
How it works
The T-RackS Grand suite of processors is extremely easy and flexible to use.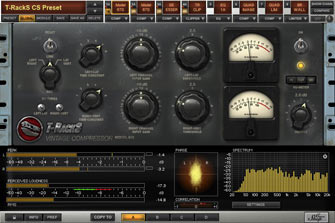 Individual tweakers
T-RackS makes your recordings come alive with the tools you need to create outstanding mixes and masters with warm tube tone or the clean sheen of digital. With T-RackS Grand, you get 16 processors that can be used in the standard configurable plug-in/standalone format, or can be used as individual plug-ins on channel strips in your mix. Either way, you'll find T-RackS processors to be extremely easy to use.
You'll find each module stands alone in its ability to bring out the best in your tracks. Use them anywhere you need to tighten up a track, provide a little extra shimmer or roll off a bit of high end. You will not be disappointed.
Globally significant
When used as a plug-in on your master fader, T-RackS Grand provides an entire mastering chain for the final tightening up and polishing of your sound. It's fully automatable and configurable into dual-processor chains, and provides you with professional mastering-studio tools to make your final mix truly sound its best.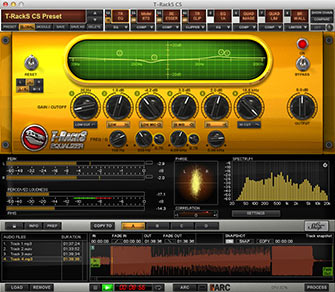 Standalone greatness
When used as a standalone application, T-RackS Grand is a complete mastering workstation that operates independently from your DAW. To use it as a workstation, you simply launch the standalone application, then import your final stereo mix files into the mastering queue. All presets are available in standalone mode so you can master an entire album of songs quickly, and with Grammy-ready results.
Presets – your mastering starter kit
Each module features a complete set of module "presets" that provide excellent starting points for the sound you want to get, and you'll also get a complete set of global presets with multiple modules for mastering a variety of musical styles and instrument types. Use them exclusively, tweak them and save them as your own, or create your own from scratch. The choice is yours.

T-RackS has all the tools you need to create superb, tube-toned or digital-tuned mixes and masters. Its rich, warm sound combines new tube-modeled and state-of-the-art digital processors on top of its classic top-notch analog classics.

Versions