Artists
Producer for Jonas Brothers, Switchfoot, Pink and more
16 August 2017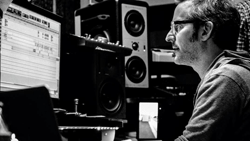 John Fields, music producer creating songs with Syntronik
"Syntronik is my new virtual go-to choice and an ultimate all you can eat palette of vintage synths."
John Fields has produced for a number of musical artists, including the Jonas Brothers, Switchfoot, Pink, Har Mar Superstar, Goo Goo Dolls, Miley Cyrus, Drake Bell, Andrew W.K., Demi Lovato, and many more.
Syntronik is a cutting-edge synthesizer virtual instrument that includes 17 amazing instruments with over 2,000 preset sounds covering a wide selection from 38 of the most iconic to ultra-rare vintage synthesizers. Syntronik's hybrid synthesis engine goes well beyond traditional sampling thanks to  its new exclusive DRIFT™ technology to accurately reproduce the behavior of oscillators from real hardware synths along with a brand new analog modeled filter section. All of this combined with an effects section that is unrivaled in the world of virtual instruments and advanced features like 4-part layers, splits and arpeggiators make Syntronik the ultimate source of inspiration with the widest palette of synthesizer sounds covering productions in any genre and style.
Reviews