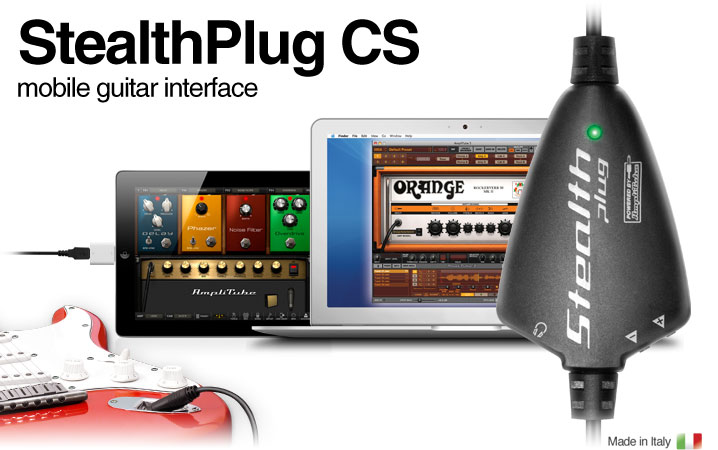 Guitar/Bass USB Audio Interface Cable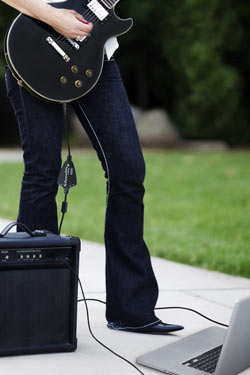 The StealthPlug CS "Custom Shop" is perhaps the most affordable way to get started making guitar music on your computer. It features the StealthPlug 1/4" to USB cable interface, and the new AmpliTube Custom Shop software plus 50 gear credits to use in the Custom Shop. Here's what it is and what you do with it…
Get Connected with StealthPlug
First, we answer the question "how do I get my guitar sound into my computer?" Our Answer: The StealthPlug.
The StealthPlug is an affordable high quality low noise "Analog to Digital" converter cable that takes the output of your guitar and converts it into something the computer can read. This is done in an "all in one" 9ft guitar cable that has a 1/4" guitar jack on one end and an USB jack on the other, and an inline set of high speed "a/d" and "d/a" converters. You computer will then send the output from your AmpliTube software (that's included) back through the USB port and the StealthPlug converts it back into an analog signal (that's the "d/a" part) that old-fashioned gear like amps, powered speakers, headphones and stereos can understand so they can do their duty and stimulate your eardrum pleasure centers.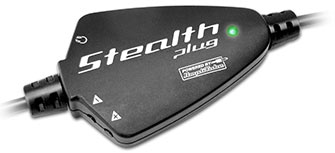 The Nuts and Volts – 9 Feet of "cablecular bliss"
With the StealthPlug, you get 9 full feet of room to stretch out, stand up, jump jive and wail. Simply plug the 1/4" end into your instrument and the USB end into your computer. (It doesn't work the other way… we tried.) There's a 1/8" mini-plug jack for your headphones (neighbor-friendly) or powered speakers (non-neighbor friendly) so you can hear what you're doing. There's a dual-button volume control in case the police show, and a couple of pretty colored lights you can use to land small aircraft.
Then…within seconds, be prepared to enter a world of pure tonal hysteria and mayhem featuring the included new AmpliTube Custom Shop.
Meet your new Tone Shaper
StealthPlug CS comes with AmpliTube Custom Shop, the leading amp and software modeling package with 24 pieces of gear including: a digital chromatic tuner, 9 stomps, 4 amps, 5 cabs, 3 mics, and 2 rack effects. Basically it's your entire guitar or bass signal chain, but in convenient compact "computer" form you can use in your studio or on stage.
Show me the money gear…
Plus you'll also get 50 AmpliTube Custom Shop Gear Credits that allow you to expand and customize your virtual rig one piece at a time. The Custom Shop has over 230 pieces of individual gear, including exclusive official models from legendary brands like Fender®, Ampeg®, Orange®, Soldano®, T-Rex®, Seymour Duncan®, Groove Tubes® and many more.
Once you've dialed in your tone, lay down your ideas with the built-in 4-track recorder. You can layer your ideas with its non-destructive recording feature and "re-amp" your sound to get everything exactly perfectly perfect.
AmpliTube Custom Shop also works as a plug-in for the most popular DAW (Digital Audio Workstation) sequencers such as GarageBand, Pro Tools, Cubase, Sonar, Logic, Live, Reaper, FruityLoops, etc. with the exact same functionality, (except you don't get the handy recorder when you're already using it in a recorder… duh.)
So, in summary:
Guitar —> StealthPlug —> Sonic Couriers —> Sonic Particle Accelerator —> AmpliTube Custom Shop —> Fame and Fortune (talent not included). It's never been easier.
---
How it works
"The only way it could only be easier if we came to your house and did it for you…"
Getting started with StealthPlug CS is easy as 1-2-3.
Install the included software following the instructions (this will install both AmpliTube Custom Shop and drivers if needed) or download AmpliTube for iPad.
Plug the StealthPlug 1/4" jack into your guitar or bass output, plug the USB connector into your computer (or into your iPad using Apple® Camera Connection Kit), plug your headphones or powered speaker to the 1/8".
Launch AmpliTube Custom Shop (or AmpliTube for iPad), open settings and select StealthPlug as the audio interface and voila', you are ready to rock!
You'll immediately be in a VERY familiar place
The AmpliTube interface looks and acts like a hardware rig, only better. You can choose all kinds of configurations for your rig; use multiple instances of the same effect with different settings, different amp heads with non-matching cabinets, custom configure microphone placement on the speaker and in the recording space, and polish with spectacular rack effects. You now have at your disposal some of the coolest gear on the planet. Careful — this stuff is highly addictive.
For more information about how AmpliTube works check here.
More, please
After the 1.73 minutes it will take you to become comfortable with all of the features and operation, you're ready to add more gear. Click the "Custom Shop" Button in the upper right corner of AmpliTube and you'll be transported to the coolest boutique guitar gear store on the planet – always open, and our gear is always in stock. Gear starts at only 3 credits, so 50 credits can go a long way... Go ahead, shop till you bop!
For more information about Custom Shop check here.
Software