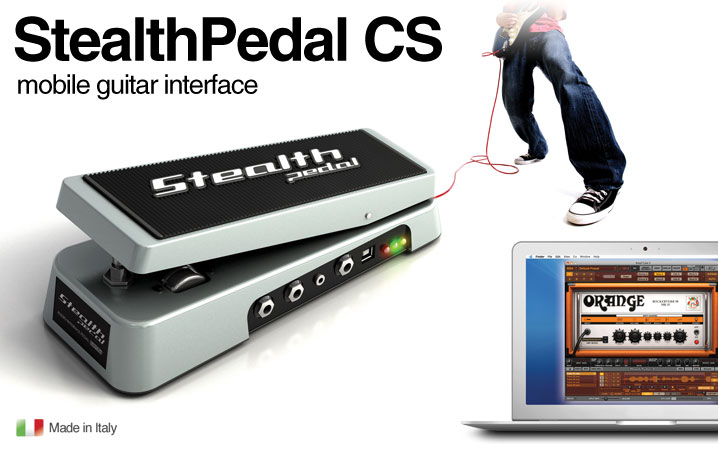 Audio Interface/Controller
in a compact wah-style pedal
"There are over 300 'audio interface' units on the market… do you really need another one?"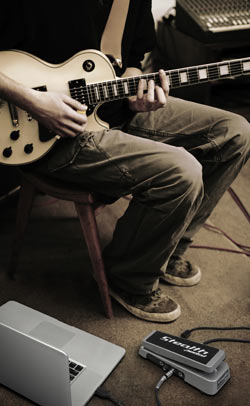 Actually, no. You just need this one.
StealthPedal CS "Custom Shop" is truly in a class by itself. It consists of the StealthPedal Wah-Style Audio interface, AmpliTube Custom Shop software and 100 gear credits to use in the AmpliTube Custom Shop. Here's a little more detail about what you get…
StealthPedal - Reinventing the wheel to be more like a jet pack
Guitar Audio Pedalicious
One look at the StealthPedal and you'll "get" it. That's right, it's a wah pedal. But it's also a volume pedal, or gain control, or tremolo speed control, treble booster, amp bypass, pitch shifter, margarita maker, dream date, super model, or actually whatever you want it to be, within the realm of audio and software control. The StealthPedal is truly a revolutionary product born from the minds of "what if you could…" guitar players. You see, it's an audio interface, meaning you can use it to connect your guitar or bass to your computer. And it's a high quality one at that. It takes your guitar signal and converts it into something a computer can read and manipulate. Plus…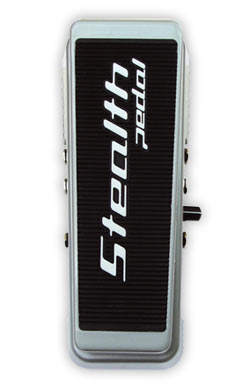 Look Wah - No Hands!
StealthPedal is also a controller. Don't let that scare you, it's actually a great thing. It means that once you get hooked up, you can also assign software parameters to it's knobs, switches and pedal attenuator. And with our software, if you know how to right-click a mouse button, you know how to assign a function to a button. It's so easy even a "pizza delivery person" could do it. Really — that easy. So, now you don't have to "wah" with your mouse. You can do it the way you've always known how to… with your feet.
In In Out Out - Getting Connected
You get two ins — and two outs. This way you can connect a couple of instruments, or a stereo source, and run the outs in stereo or dual mono. This allows you to take advantage of the stereo effects of the software if you have it set up that way. The functionality of the StealthPedal is expandable — you can also add an additional expression pedal via the "expression pedal" ¼" jack, and you can add a dual-button footswitch. Why? Because we all like options, and this gives you the ability to assign more software parameters to buttons and pedals you operate with your feet so you can focus on the things that matter… like playing the money riffs.
Meet your new Tone Shaper
Speaking of money riffs, StealthPedal CS comes with AmpliTube Custom Shop, the leading amp and software modeling package with 24 pieces of gear including: a digital chromatic tuner, 9 stomps, 4 amps, 5 cabs, 3 mics, and 2 rack effects. Basically it's your entire guitar or bass signal chain, but in convenient compact "computer" form you can use in your studio or on stage.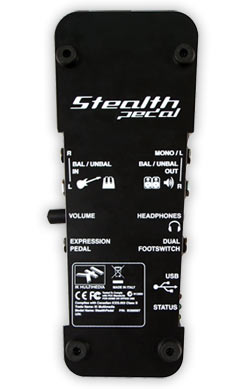 Gear, gear and more gear. Did we mention gear?
You'll also get 100 AmpliTube Custom Shop Gear Credits that allow you to expand and customize your virtual rig one piece at a time. The Custom Shop has over 230 pieces of individual gear, including exclusive official models from legendary brands like Fender®, Ampeg®, Orange®, Soldano®, T-Rex®, Seymour Duncan®, Groove Tubes® and many more.
Once you've dialed in your tone, lay down your ideas with the built-in 4-track recorder. You can layer your ideas with its non-destructive recording feature and "re-amp" your sound to get everything exactly perfectly perfect.
AmpliTube Custom Shop also works as a plug-in for the most popular DAW (Digital Audio Workstation) sequencers such as GarageBand, Pro Tools, Cubase, Sonar, Logic, Live, Reaper, FruityLoops, etc. with the exact same functionality, (except you don't get the handy recorder when you're already using it in a recorder).
StealthPedal – finally an interface for guitar and bass players
---
How it works
"If you can plug in your guitar, you can use the StealthPedal CS…"
Seriously, that's how simple it is. Here are the basic steps:
Simply start by installing the included software following the instructions (this will install both AmpliTube Custom Shop and drivers if needed.)
Plug your guitar or bass into one of the two StealthPedal 1/4" jacks, plug the USB connector into your computer, plug your headphones or amp/powered speakers to the outputs. (Or you can configure your current computer output device as your output.)
Launch AmpliTube Custom Shop, open settings and select StealthPedal as the audio interface and voilà, you are ready to rock!
Déjà Vu
When you open AmpliTube, you'll feel like you've been here before. The AmpliTube interface looks and acts like a hardware rig, only better. You can choose all kinds of configurations for your rig; use multiple instances of the same effect with different settings, different amp heads with non-matching cabinets, custom configure microphone placement on the speaker and in the recording space, and polish with spectacular rack effects. You now have at your disposal some of the coolest gear on the planet. Careful — this stuff is highly addictive.
For more information about how AmpliTube works check here.
More, please
After you have become comfortable with all of the features and operation, you're ready to add more gear. Click the "Custom Shop" Button in the upper right corner of AmpliTube and you'll be transported to the coolest boutique guitar gear store on the planet – always open, and our gear is always in stock. Gear starts at only 3 credits, so 100 credits can get you a gig with a touring band... Go ahead, shop till you rock!
For more information about Custom Shop check here.
Software