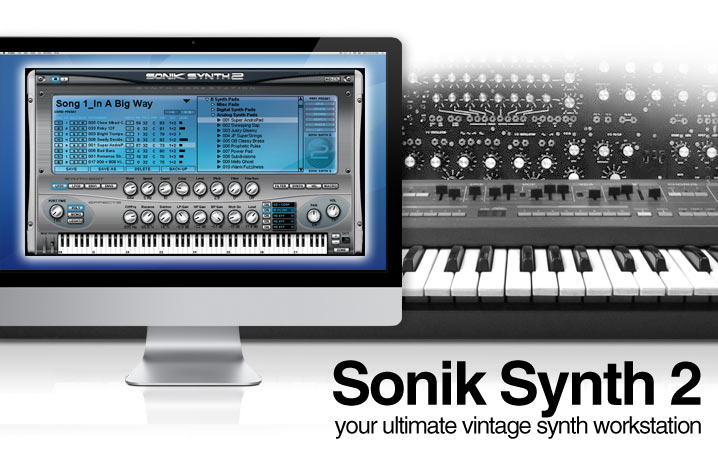 Sounds beyond your imagination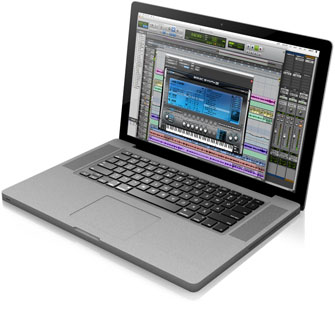 Get your Creative Flowing…
Sonik Synth 2 is the ultimate vintage synth and sound workstation, with more synth and workstation instrument sounds than any other comparable hardware or software product. Nearly 6,000 sounds make it largest collection of modern and vintage instruments ever assembled in one workstation.
A synth workstation on steroids
Sonik Synth is a complete songwriting, production and arrangement super tool. You'll find inspirational sounds and textures that can be used to compose and arrange complete songs, all within the convenience and simplicity of the Sonik Synth environment. Sonik Synth gives you the widest range of high quality vintage, modern and futuristic synth and instrument sounds ever combined into one package!
You'll get sampled flavors of every type of synthesis including analog, digital, FM, physical modeling, wavetable, granular, additive, resynthesis and more.
Sonik Synth includes a virtual museum of vintage keyboards covering the widest palette of synth flavors ever assembled into one product. Experience the fat analog sound of Arps™, Moogs®, Obies, Jupiters, Gleeman™, Voyetra®, Serge™, EMS Synthi™, Prophets™, Trons, Rhodes®, Wurlies™, B3s™ all in one mega plug-in and standalone app. And Sonik Synth is rock-solid in performance so you can use it live, or use multiple instances within your favorite sequencer with confidence.
---
Sonik Synth Features:
16 part multitimbral sound module with layerable parts
3 synth engines: STRETCH™ and Pitch-Shift/Time-Stretch (PS/TS) plus traditional Resampling
Powerful Multi-Effects section that includes 5 insert effects per Part
32 built-in DSP effects
Part and Master Loop Sync
Independent Part and Master Volume/Pan controls
Works as a standalone application as well as a host sequencer plug-in in Mac OS (Universal Binary), and Windows (XP/Vista)
Supported plug-in formats: VST, RTAS, and AU
Sounds can be read by SampleTank 2.5 and can be used to expand its world of sounds
---
How it works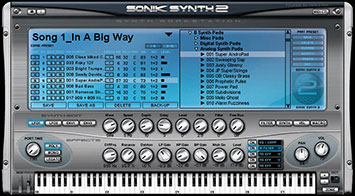 The Sonik Synth Engines
More power than any sample-based virtual instrument
The Sonik Synth 2 "playback" engine launches sampling technology into new dimensions. Based on the wildly popular SampleTank 2.5 Engine, Sonik Synth features 3 synth engines that can be switched on the fly to provide more flexibility than ever before: traditional resampling, PS/TS (Pitch-Shift/Time-Stretch) and the STRETCH™ engine give you total control over Tempo, Tune and Harmonics.
Resampling is the traditional technology used in sampler and sample-based sound modules. The PS/TS Engine has been designed to work with polyphonic material such as ensemble instruments phrases, or percussive sounds like drum loops and percussion grooves. With PS/TS tempo and pitch can be adjusted and controlled independently giving you more options with loops and a new level of realism.
The STRETCH Engine has been designed for monophonic material (such as vocal, brass, winds, etc…), and provides full control over the tempo and tune of the samples. It gives any sample an incredibly rich, vibrant, and natural quality. STRETCH also expands your sonic manipulation capabilities by providing full-control of an instrument's basic spectrum distribution to tailor its tonal characteristics. You'll seriously have to experience this on your own… words can't begin to describe the euphoria. You see, most natural instruments loose their realism when played by a sampler, and you can immediately hear it. But the false sounding glide and bending in many traditional samples have been eliminated by STRETCH which delivers a new standard of musical realism, making virtual instruments more natural sounding than ever imagined
Powerful Multi-Effects Unit with 32 DSP effects
Every sound in Sonik Synth instrument is programmed with fully editable built-in effects. Sonik Synth 2 has an extremely powerful multi-effects engine which offers high quality DSP effects giving maximum flexibility, creativity and realism to all the instruments. Choose up to 5 effects per instrument, plus you get 5 send effects and 5 master effects. All the effects are derived from our award winning AmpliTube and T-RackS packages providing top-class quality pristine sound.

Easy to use control over full synth-sampler engine
Sonik Synth 2 gives you full control of its powerful synth engine through the SYNTH-SAMPLER section. Here you can control more than 50 parameters divided into 9 sections: Macro, Synth, Envelope 1-2, Filter, LFO 1-2, Velocity and Range.

All of Sonik Synth 2 controls are accessible from a single interface, designed for you to spend more time focused on your music instead of studying complex manuals. You will find yourself loading up Sonik Synth 2 as your go-to virtual instrument, every time you want to let your creativity flow.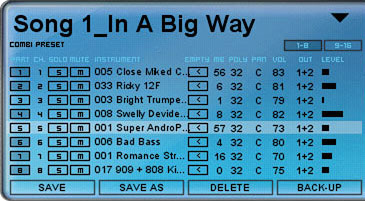 16 layerable parts, Full MIX control
Sonik Synth 2 gives you immediate control over 16 layerable parts and provides instant mixing control on each part. All essential mixing parameters, like SOLO, MUTE, VOLUME, PAN, and OUTPUT (8 stereo) selections are available with a simple click. Plus a LEVEL display provides you with a rough mix level for each instrument at a glance.
Plus, you can store the complete 16 part Sonik Synth 2 module mix into a unique "Combi" sound, for fast and easy recall of complex customized sounds or entire instruments set-up mixes (like full band, drums and percussion sets) with one click.
Stay Organized…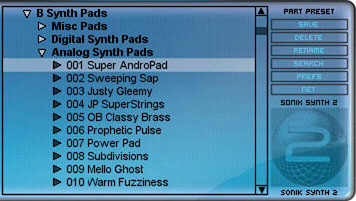 Enhanced instrument browsing. Powerful built-in sound Database
Sonik Synth 2 offers one of the fastest sound browsing of any Sample-based virtual instruments. Its clear folder structure (which reflects your folder's organization on your hard-disk) is enhanced with a collapsible folder view, making it easy to pick the right sounds among thousands in a flash. Plus, the search function lets you quickly find instruments and sounds based on your keyword input.
Preset Save
Sonik Synth 2 allows user presets to be saved as additional patches of Sonik Synth 2 sounds. A "preset" sound is an individual sound with a different application of effects. It uses the sample content of its "parent" sound and the custom settings of any Sonik Synth 2 controls (also called "child" preset). Preset sounds can be easily exchanged among users sharing the same "parent" sounds since in effect it's simply an adjustment of the effects applied to the parent sound.
Module Save
Sonik Synth 2 also allows an entire 16-part module setting to be saved for quick loading of entire instruments set as a "Combi" sound. Let's say you create an awesome sound that consists of nylon string guitars, an orchestral ensemble and a woodwind section. Module Save lets you save this "combination" or "Combi" for fast, easy recall. And the file format is platform-independent so a complete Sonik Synth 2 session can be exchanged among different sequencers and different platforms in a snap, making it ideal for today's professional production workflow.
Backup
Sonik Synth 2 offers a smart, convenient Back-up function. With just one click this feature saves all the instruments/sounds you've used in your session into a folder for quick recall. This means you can open-up old projects with zero hassle and focus your energy on music and creativity.
Full MIDI integration
Sonik Synth 2 provides full MIDI integration for complete MIDI control of your sound. Every control of Sonik Synth 2 can be easily associated with a MIDI CTL for live performances and recording. Every parameter can be automated on the fly for amazing sonic control and performance flexibility.
An IK Multimedia product done
in cooperation with Sonic Reality
Software