Reviews
5.5 out of 6 points score from Beat Magazine
25 September 2012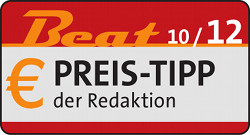 Beat (Germany) Magazine has reviewed AmpliTube Slash in their October 2012 issue and they liked the results so much that they decided to award it with their coveted Value for Money award.
Read some of their comments here:
"The core of the collection consists of emulations of Marshall JCM Slash Edition Silver Jubilee Head and AFD100 which undoubtedly belong to the very best virtual reproductions of the British classics."

"The effects arsenal of Delay, Gate, Octaver/Distortion, Chorus, Booster and Wah-Wah scores with very clear and assertive sounds. Furthermore, not only are the characteristic sounds of AmpliTube powerful on guitar tracks but they can also give synth tracks, drums and vocals that great dirty sound."

"IK Multimedia has done an excellent job at emulating the classic sounds of this great exceptional  guitarist, they range from clean, singing lead to brutal hi-gain sounds. Also the owners of the full AmpliTube 3 can gain a lot from adding this collection as the Marshall emulations are far more authentic and expressive than the previous models."
AmpliTube Slash Wins Value for Money Award and a 5.5 out of 6 points score
Here are some quotes from the original review in German.
"Das Herzstück der Sammlung stellen Emulationen der Verstärker Marshall JCM Slash Edition Silver Jubilee Head und AFD100 dar, welche ohne Frage zu den besten virtuellen Reproduktionen der klassischen britischen Verstärker gehören."

"Das Effektarsenal aus Delay, Gate, Octaver/Distortion, Chorus, Booster und Wah-Wah kann ebenfalls mit einem klaren und durchsetzungsfähigen Klang punkten. Doch die charaktervollen Modelle für AmpliTube spielen ihre Stärken nicht nur auf Gitarrensignalen aus, auch Synthesizerspuren, Schlagzeug oder Gesang können sie zu einem drechigen Klang helfen."


"Mit AmpliTube Slash ist IK Multimedia eine exzellente Nachbildung des klassichen Sounds dieses Ausnahmegitarristen gelungen, die das komplette Spektrum von klaren über singende Lead- bis hin zu brachigen Hi-Gain Klängen abdeckt. Auch Besitzer der Vollversion des virtuellen Gitarrenstudios profitieren von dieser Sammlung, bietet sie doch weitaus authentischere Marshall-Emulationen, die den ursprünglichen Modellen in puncto Expressivität deutlich überlegen sind."


Versions