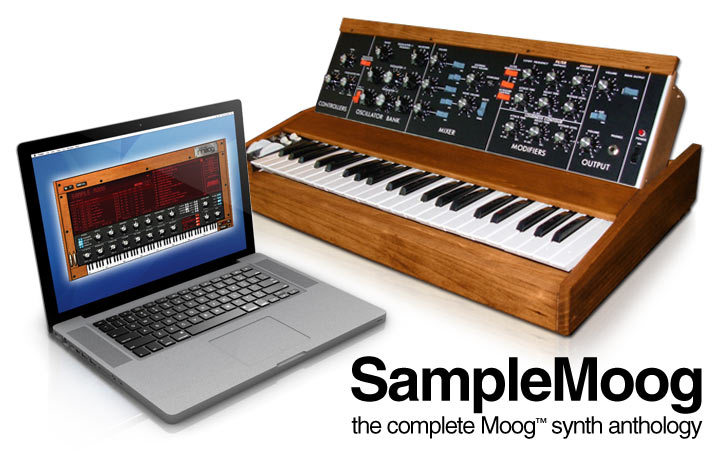 16 rare, collectible Moog synths
in one virtual instrument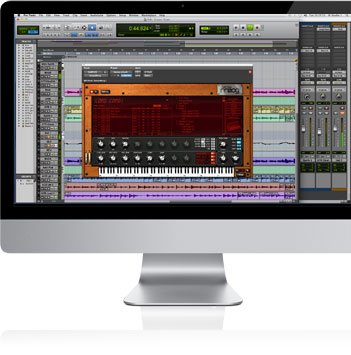 Satisfy your Moog Addiction
SampleMoog™ includes the sounds of all the most sought-after vintage and modern Moog™ synthesizers spanning the entire Moog history, in an easy to use, sample-based virtual instrument "powered by SampleTank" available as a plug-in for the most popular DAWs and a standalone application for Mac and PC.
With SampleMoog you'll get over 1,900 basses, leads, pads and effects sounds from the very first Moog Modular systems to rare Minimoogs to Taurus™ Bass Pedals, Polymoogs, Memorymoogs and more. Whether you want a lead sound or a phat R&B synth bass or swirling fx, this is the ultimate source for everything Moog!
Load up monster Moog Modular patches, pull up the powerful rumbling sound of Moog Taurus 1 Bass pedals and shake the house! The SampleMoog takes you back in time to the days of analog and honors one of the founding fathers of synthesis, Bob Moog. An homage to the incredible range of instruments from the first Etherwave® Theremin to the latest Minimoog® Voyager®, this virtual instrument is a must-have for any fan of the "Moog Sound" as well as an analog synth powerhouse for any music style.
---
SampleMoog™ Features:
One of the most complete collections of Moog sounds ever released in one product, done in cooperation with Moog Music® and Sonic Reality
Over 1,900 sounds from 16 rare, collectable Moog synths, spanning the entire Moog history, accurately sampled and fully produced with 32 built-in effects
16 part multitimbral sound module with layerable parts
3 synth engines: STRETCH™ and Pitch-Shift/Time-Stretch (PS/TS) plus traditional Resampling
Powerful Multi-Effects section that includes 5 insert effects per Part
32 built-in DSP effects
Part and Master Loop Sync
Independent Part and Master Volume/Pan controls
Works as a standalone application as well as a host sequencer plug-in in Mac OS (Universal Binary), and Windows (XP/Vista)
Supported plug-in formats: VST, RTAS, and AU
Sounds can be read by SampleTank 2.5 and can be used to expand its world of sounds
---
How it works
The Engines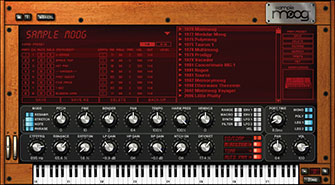 SampleMoog is based on the industry-standard SampleTank engine, offering unique proprietary features like one-click sound browsing, multiple synth-engines including real-time harmonic manipulation of the waves, built-in vintage multi-effects and fast loading samples for studio or playing live. SampleMoog not only brings you the classic analog sound of Moog but also goes far beyond by combining it with the modern technology of the SampleTank engine which includes analog modeled effects, DSP and IK's exclusive STRETCH™.
Powerful Multi-Effects Unit with 32 DSP Effects
SampleMoog contains an integrated multi-effects engine which offers high quality DSP effects giving maximum flexibility, creativity, and realism to all the instruments. All the effects are top-class and have been designed with sound shaping in mind. Choose up to 5 effects per instrument, plus you get 5 send effects and 5 master effects. All the effects are derived from our award winning AmpliTube and T-RackS packages providing top-class quality pristine sound.

Go Ahead, Mix it Up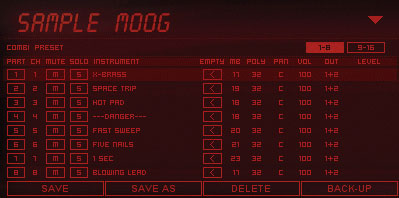 SampleMoog gives you immediate control over 16 layerable parts, avoiding annoying switching back and forth within the sequencer and offering instant mixing control on every instrument. Here you select your MOOG™ instrument and load it into one of the 16 parts, assign MIDI channels for output and/or layering. Control each sound independently with separate PAN, VOLUME, SOLO, MUTE controls, plus monitor each with independent level metering.
The Virtual Closet – The Instrument Browser
SampleMoog offers one of the the fastest sound browsing of any Sample-based virtual instruments. Its clear folder structure (which reflects your folder's organization on your hard-disk) is enhanced with a collapsible folder view, making it easy to pick the right sounds among thousands in a flash. Plus, you can also add customized searchable keywords to the built-in factory keywords to find sounds, using SampleMoog exclusive built-in sound Data Base.
Single Window Synth-Sampler
SampleMoog gives you full control of its powerful synth engine through the SYNTH-SAMPLER section. Here you can control more than 50 parameters divided into 9 sections: Synth, Range, Filter, Macro, Envelope 1-2, LFO 1-2, and Velocity. SampleMoog allows you to switch between 2 different types of sample engines:
Resampling (RESAMP)
STRETCH (Sampletank® Time REsynthesis TeCHnology)
| | | | |
| --- | --- | --- | --- |
| | | | SampleMoog™ is an IK Multimedia product done in cooperation with Sonic Reality and Moog Music® Inc. |
Software