Reviews
"Orchestral sample libaries don't come better than this"
29 July 2016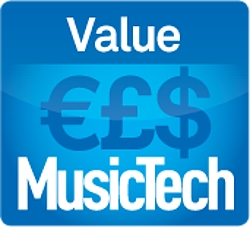 MusicTech magazine has given a full, in-depth review of Miroslav Philharmonik 2 CE and were so impressed that they rewarded it with their prestigious Value award:
Here are some of the top comments from expert reviewer, Keith Gemmell:
"Articulations are numerous throughout, which is ideal for experienced composers."
"There are also plenty of solo instruments - again, with many articulations that can either be keyswitched on the fly in multis, or loaded as single samples."
"The sound quality throughout is excellent and pretty much what you would expect from a library of this price."
"A very welcome addition are the choirs - female, male and mixed - that are as good, if not better, than other budget choirs we have encountered."
"To top it off, 34 plug-ins from IK Multimedia's SampleTank 3 workstation can be inserted in the mixer, plus a convolution reverb and four mastering processors from their T-RackS."
"It's difficult to fault what is, after all, a remarkably comprehensive orchestral workstation that contains everything needed for adding orchestral music to existing tracks, be they pop, jazz, cinematic or whatever."
"If you'll pardon the pun, this is where IK Multimedia's offering scores very highly indeed - it's fantastic value for money."
Keith's final conclusion is:

Value-wise, orchestral sample libraries don't come better than this - a full orchestra, plus solo strings, logs of ensembles and comprehensive mixing and editing features.
MusicTech verdict:
+ Long pedigree
+ Fully featured orchestrally
+ Solo sounds
+ Fine Sounds
Miroslav Philharmonik 2 CE receives the MusicTech Value award
Read the full MusicTech review here
Learn more about Miroslav Philharmonik 2 CE here

Audio