Reviews
"The extremely realistic sound" wins the Recommendation award
20 March 2017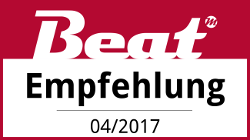 Beat Magazine has taken an in-depth look at IK's MODO BASS in their April 2017 issue. They were so impressed with the results that they decided to crown it with the maximum 6/6 score and their coveted Recommendation award.
Here is their verdict.
"Even though MODO BASS cannot reproduce whether the bass player has just fallen in love or is furious with his boss, the sound characteristics, signal paths and playing techniques can be varied in an astonishing multitude of ways. The result is a remarkably expressive, nuanced and wonderfully playable, as well as CPU efficient, instrument that scores with an extremely realistic sound. Small variations in timing, note length and intonation provide for even more vibrant results."
6/6 score and Recommendation award
Here is the verdict from the original review in German.
"MODO BASS simuliert zwar nicht, ob der Bassist gerade verliebt oder wütend auf seinen Chef ist, aber Klangcharakteristik, Signalwege und Spieltechnik lassen sich auf erstaunlich vielfältige Weise beeinflussen. Das Ergebnis ist ein bemerkenswert expressives, nuancenreich spielbares und ressourcenschonendes Instrument, das mit einem äußerst authentischen Sound punktet. Leichte Variationen des Timings, der Notenlängen und der Intonation sorgen für noch lebendigere Ergebnisse."

Bewertung 6/6, Empfehlung der Redaktion
Visit Beat HERE
Learn more about MODO BASS HERE