Reviews
"Fabulously playable!"
23 February 2017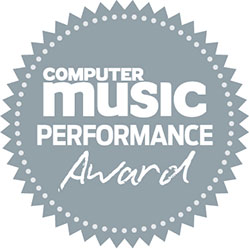 Reviewing MODO BASS in the April 2017 issue of Computer Music, the team were so blown away that they gave it their prestigious Performance Award. Here are some of the key comments:
"Being a synth, MODO BASS doesn't require anywhere near the hard drive space devoured by the average multisampled library."
"MODO BASS squarely hits the mark when it comes to realistic fingered, picked and slap bass emulation."
"The assignment of MIDI CCs to Bend, Slide, Muting,Pluck position, Vibrato and other performance parameters make MIDI controller linkage a straighforward, painless process."
"Sounding easily close enough to the real thing as to be indistinguishable in the mix, right down to the fret and string noise."
"The well-designed interface makes tweaking sound, response and instrument characteristics easy, and playing authentically 'human' bass lines quickly becomes intuitive."
"Even the most cynical of music production traditionalists would be hard pressed to fault MODO BASS's superb electric bass modelling."
The final verdict is:
"It seems too good to be true, but MODO BASS is the real deal, bringing stunningly lifelike electric bass to the studio without a sample to be seen."
+ Easy to use
+ All the flexibility of physical modelling
+ Sounds just like the real thing(s)
+ Fabulously playable
MODO BASS wins Computer Music's Performance Award and 9/10 score

Read the full review on MusicRadar here
Learn more about MODO BASS here