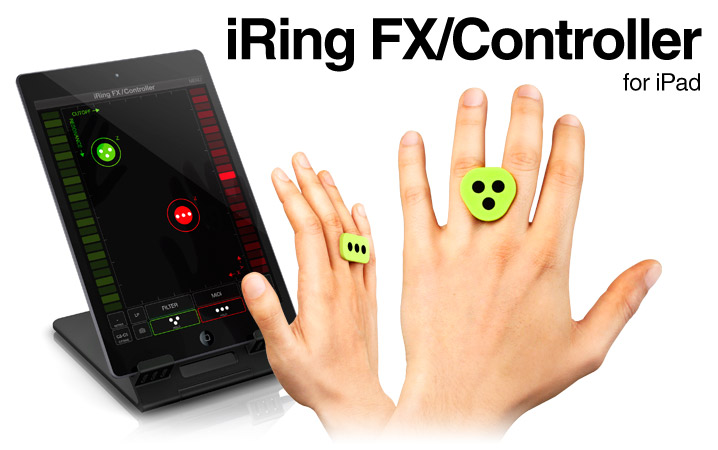 Professional Effects and MIDI Control with touchless technology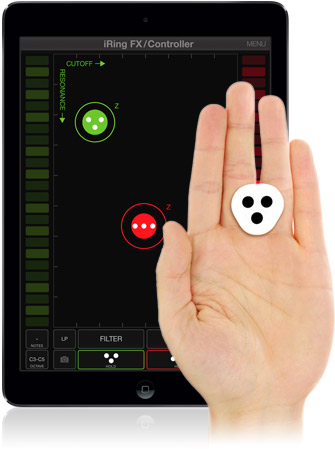 Now control your favorite effects and MIDI apps with simple hand movements and gestures!
iRing FX/Controller is a free companion app for use with the iRing that puts the power of motion control in your hands — more specifically between your fingers. iRing FX doubles as a professional quality audio effects processor and a toucheless MIDI controller that uses hand movements and gestures to apply and control effect parameters and/or send MIDI messages to your apps. It's powerful features and effects make iRing an indispensible tool for creative musicians and DJs on the go.
Add an Effect and Control its parameters
The iRing FX/Controller works with an incoming audio signal from an external source connected to your device, or in conjunction with Audiobus and Apple's Inter-App Audio technology allowing you to add high quality professional DJ and audio effects to virtually any audio source. To process audio from another source like a DJ Mixer or other music player, simply connect the source to your iOS device using a compatible interface like an iRig PRO.
Using Audiobus, you add iRing FX/Controller into the center "effects" slot to add effects, and in Inter-App Audio compatible apps, use it as an effect. Once your signal chain is set up (Audio source —> Effects Processor/Controller —> Output), the fun starts…
16 Professional DJ and Audio effects
As a real time effects processor, iRing FX/Controller lets you add two effects to the incoming audio signal chain (either fed through the device audio input or from background apps using Inter-App Audio or Audiobus) and control 3 parameters per effect simultaneously simply by moving your hands (wearing the iRing of course) in front of your device camera. iRing FX/Controller uses precise geometric positioning technology to track the movement of the iRing and converts that information into control parameters. Move the iRing to the right and left (X axis) to control one parameter, up and down (Y axis) for another, and move the iRing closer to the screen and farther away (Z axis) to control a third parameter. You'll be amazed at the precision of the tracking (thanks to some really smart people at IK HQ) and how easy it is to operate.
Let's take the "Filter" effect for instance… start your audio and select "Filter" from the effects menu at the bottom of the screen. Show your device the corresponding iRing pattern (either triangular for the left "slot" or linear for the right) and instantly the filter effect is being applied to the audio signal. Move your hand to the right and you're controlling the cutoff frequency point. Move you hand up and you're controlling the Resonance of the effect. In the Delay effect, move your hand toward the screen and your controlling how much of the effect is actually being mixed in or applied to the audio source. Each effect also has additional selectable configuration options. The Filter effect for example can be a bandpass, high pass or low pass type filter.
For time-based effects like Delay, iRing FX/Controller uses IK's X-Sync technology to detect the BPM of the incoming audio and automatically syncs the effect to the tempo. You can also manually select the BPM sync as well giving you more creative application of effects.
iRing FX/Controller also features a "hold" function that keeps the effect parameters in place and applied to the signal even if the iRing controller is no longer detected. Move the controller out of the range of the device camera and the effects will still be active; move it back in view to fine tune and adjust parameters.
iRing FX/Controller is pretty simple yet powerful processor, and once you get the hang of it, you can perform some amazing audio acrobatics with it. Plus, you can load and apply effects on the fly for real time performance effects (like the twist and brake effects). There are up to 16 available effects which include audio standards Filter, Delay, Phaser, Flanger, Compressor, Reverb, and Auto-Wah, plus creative professional DJ effects Fuzzy, Stutter, Crush, Noise, Twist Up, Twist Down, Brake, Spin and Tail.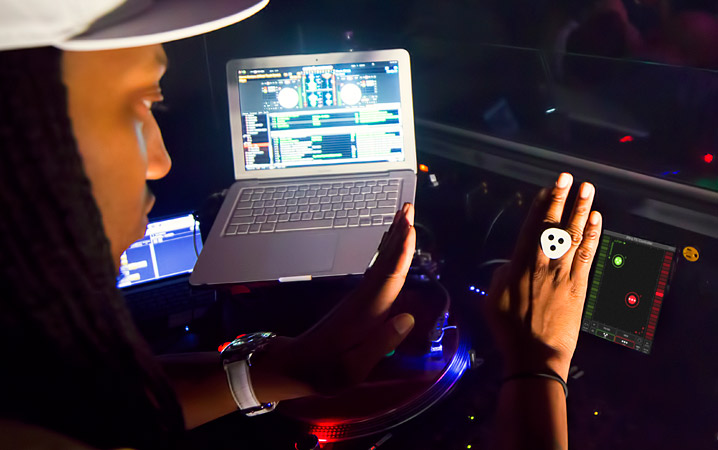 Control MIDI with your hands
iRing FX/Controller can also be configured to send virtually any MIDI messages to control compatible apps and hardware. Assigning a MIDI control message is a very easy and simple process so you'll be a control freak in no time!
How to assign control messages
As a MIDI controller you can use iRing FX/Controller to assign and send control change, notes, program change, pitch wheel, after touch, MMC message and system real time messages. You can assign messages to the X,Y & Z movement axis which are great for continuous control change messages and note playing, plus you can assign messages to specific iRing movement gestures, including show/hide, rotate right, rotate left, punch, exit right, exit left, exit up and exit down. Assigning a control is very intuitive and is done by touching the "+ MIDI Message" command in the MIDI assign window and specifying what you'd like iRing to control and how.
| | |
| --- | --- |
| | |
| Show/hide | Rotate right/left |
| | |
| Punch | Exit |
Preset System
iRing FX/Controller allows you to create presets for storing your sets of MIDI commands for instant recall in any playing setting. Plus, you can assign and store multiple MIDI commands for the axis and gestures in each preset (gestures are only available using the iRing controller). When playing notes with the iRing controller, the available range can be changed quickly by pressing the octave buttons at the bottom left and right of the screen and a note "window" indicates which note is currently being played.
iRing FX/Controller can send control messages to your connected hardware or to a desktop computer application for even more flexibility. It is compatible with iRig MIDI and iRig PRO or any other Core MIDI compatible interface or device, plus it can send messages wirelessly to a computer or device via a Wi-Fi connection.
iRing or Touch Screen
iRing FX/Controller can be controlled by touch on the device touch screen, but to truly get the most out of the app and to unlock its full potential, it should be used with the revolutionary iRing motion controller.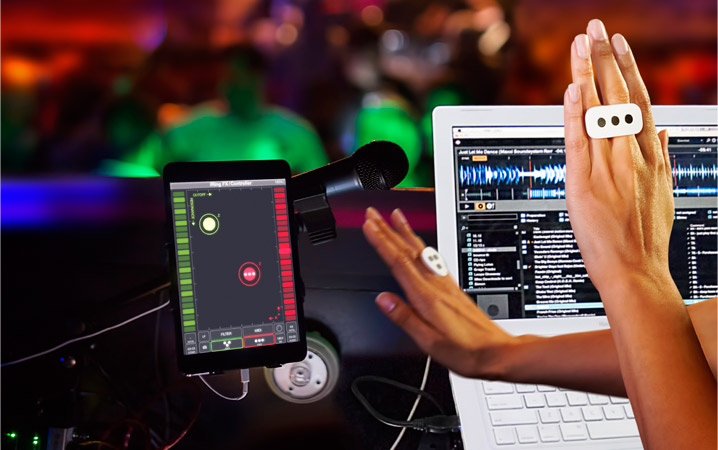 Features
Easy and intuitive interface
XY touch control surface
Uses iRing motion controller to control effects and send MIDI messages
3-axis volumetric touchless controls when used with iRing motion controller
Support front and rear camera when used with iRing
Comes with 1 effect (Filter) with individual effects and FX bundles available via in-app purchase
Real time audio multi-effects
16 High quality tempo synced audio effects processors
Support X-Sync to detect tempo from external audio sources in realtime and automatically sync the effects tempo
Compatible with Inter-App Audio and Audiobus
MIDI controller
The iRing technology - touchless control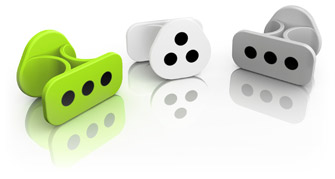 To get the most out of iRing FX/Controller use it with the revolutionary iRing controllers (sold separately at your favorite electronics and music retailers, or in our online store), a set of two "rings" you wear on your hands that feature dot patterns that iRing FX/Controller recognizes. When you move your hands in front of the device, iRing FX/Controller translates the motion into control commands, add and control effects in real time.
For other music app developers that want to integrate iRing technology directly into their app we do have an SDK and a free licensing program that allows to extend the control of their apps beyond the traditional boundary of phiysical touch control, and unleash a whole new world of possibiities.
Apps