Specs
iOS Compatible Devices

Universal app compatible with iPhone X, iPhone 8 Plus, iPhone 8, iPhone 7 Plus, iPhone 7, iPhone SE, iPhone 6s Plus, iPhone 6s, iPhone 6 Plus, iPhone 6, iPhone 5s, iPhone 5c, iPhone 5, iPhone 4s, iPod touch 6th generation, iPod touch 5th generation, iPad Pro (9.7-inch), iPad Pro (12.9-inch), iPad mini 4, iPad Air 2, iPad mini 3, iPad Air, iPad mini 2, iPad 4th generation, iPad mini, iPad 3rd generation, iPad 2. iOS 8.0 or later is required.
Android Compatible Devices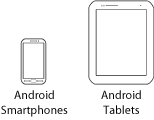 Compatible with most Android smartphones and tablets. Android 4.1 or later is required. Android 5 or later is required for USB audio support.