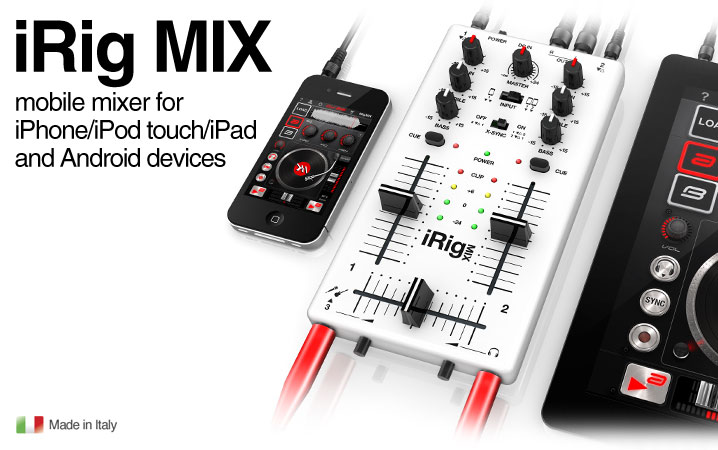 The Ultra Compact DJ mixer
for iPhone, iPod touch, iPad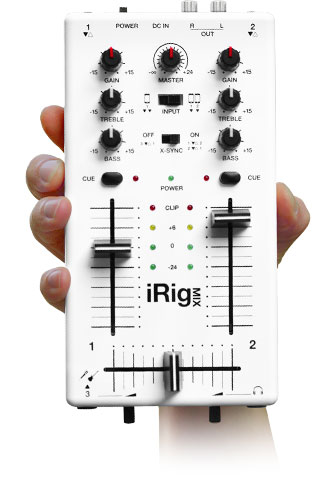 Mix Anytime, Spin Everywhere
with iRig MIX
iRig™ MIX is the first mobile mixer for iPhone, iPod touch, or iPad. iRig MIX offers the same controls you would expect from a professional DJ mixer (crossfader, cues, EQ and volume controls, etc.) in an ultra-compact mobile mixer that can be used with a huge variety of iOS DJ mixing and other apps. It is a complete DJ system for rehearsing, performing and recording. The lightweight and slim design of the iRig MIX allows it to be easily carried in a regular iPad bag. For the first time on any DJ mixer - iRig MIX can be used for mixing any type of audio source (coming from mp3 players, CD players, etc.) with an iOS device using automatic tempo matching and beat syncing. This is accomplished with X-Sync, a feature that works in combination with the DJ Rig free app from IK Multimedia that is included with iRig MIX.
A DJ Mixer
iRig MIX allows DJs to use a traditional setup with two devices (one plugged into each of the independent channels) OR a single iOS device. For the single iOS device setup, the output of the single device is split into dual-mono and sent to the individual channels. This flexibility, combined with the iRig MIX's portability gives aspiring and pro DJs a compact system that can be used everywhere…anytime. Now, you can practice when you want – perform when requested – because your "Rig" is always with you. You can set up in minutes for house, backyard, dance and "after" parties. Play in your bedroom, dorm room, or at sporting events before the big game. Planes, trains and automobiles once meant that your DJ gear was inaccessible. Now, no matter where you are or where you are going, you can mix and rehearse sets.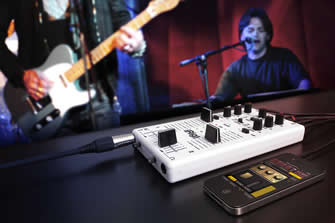 Not just for DJs
iRig MIX also provides the perfect mixing solution for solo musicians or small ensembles that use one or more iOS devices to play live. It features an extra guitar/microphone input that facilitates processing with popular apps like AmpliTube and VocaLive or any other apps that offer real-time audio effects and processing. Its standard RCA output connectors provide direct connection to PA systems or powered speakers.
Maximum Portability
With its slim, lightweight form factor iRig MIX is considerably smaller than traditional DJ mixers and can be carried anywhere you take your iPad, iPhone or iPod touch, is easy to stow and perfect for performers on the go. The iRig MIX also has minimal power requirements allowing it to be powered not only by the included power supply but also by a suitable USB battery pack or a laptop USB port for maximum mobility to mix anywhere. And because the mixer and an iPad only take up about as much space as a laptop, you can leave it set up all the time so you're ready to go when creative inspiration strikes.
Includes 4 free apps
iRig MIX includes 4 free apps (downloads from the iTunes app store): DJ Rig, the new professional DJ mixing app from IK, AmpliTube, the most popular iOS guitar amp and effects app, VocaLive the processing app for vocalists, and GrooveMaker, the loop based beat and groove making app.

Works With Your Android Devices
Now you can use your favorite Android DJ app or mixing app to get the party going. iRig MIX is fully compatible with Android devices, so you can use two devices to mix and DJ like a pro. If your favorite dual deck DJ app supports dual mono output, (the app outputs Deck 1 on the Left channel, and Deck 2 on the Right channel) you can use iRig MIX to mix and crossfade using a single device.
---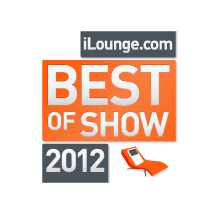 Features:
2 stereo inputs with gain, bass, treble and volume controls, independent cue on each channel with LED indication and channel cross-fader
Instrument/microphone/extra input with volume control can be processed by iOS apps (such as AmpliTube, VocaLive)
Stereo output with RCA connectors, master level and LED meters
High quality, pristine sound
Quality headphone output for master or cue monitoring with independent volume control
Input switch splits Input 1 into dual-mono for use with DJ mixing apps on a single iOS device
"X-Sync" mode allows auto-sync with any audio source using the included DJ Rig free app
Can be powered with the included AC adapter, battery pack and laptop USB ports
Includes 4 free apps: DJ Rig, AmpliTube, VocaLive, GrooveMaker
---
All IK mobile apps are available for download from the App Store.
How it works
iRig MIX Mobile Mixer is designed to accommodate virtually any small mixing and DJ-ing situation you may encounter: mix from a single iOS device, two devices, or an iOS device and an alternative music source (CD/MP3 players, etc.). Plus, there's an additional channel input that allows you to hook up a microphone, guitar or bass and use real-time iOS apps to process the signal, making iRig MIX the ideal small-format portable mixer.

Hit Single

iRig MIX allows you to mix from a single iOS device. If you use a DJ app on your iOS device like DJ Rig, then mixing on one device is a breeze. The signal from one device is sent into channel 1, and with the input switch set to single device, the incoming signal is split into two mono signals and sent to each individual channel. This allows you to mix two sources in real-time using a single device, but with both channels on the mixer. (A DJ app like DJ Rig is required for this setup since it sends two sources through the stereo out jack on your device.)

Dual-ing iPhones

Plug an iOS device into both inputs and you're ready to mix in a traditional dual-deck format. In dual-device mode, you can easily cue and beat-sync source material for seamless transitions. Each channel has a 3.5mm (1/8") input with an input gain control, treble and bass EQ controls, a "cue" button for auditioning material via the headphone jack, channel level faders and channel crossfader. iRig MIX is extremely easy to use and one of the most intuitive mixers you'll ever put your hands on.

Play with the Band

iRig MIX isn't just a DJ Mixer. In fact, you can use it for small groups or solo work as your main PA mixer. When you plug an instrument or microphone into the auxiliary 1/4" jack on the bottom of the mixer, you can use an iOS device to process your signal when it's plugged into channel 1 (make sure X-Sync is off). The signal travels from the input jack, through the gain control, out of the dual-mode channel 1 input jack, through your iOS device signal processing app, back into the channel 1 input jack, through the EQ, fader then out through the main outs. This way, you can use your iOS apps like VocaLive (vocals) or AmpliTube to fine-tune and sculpt your sound on stage in real-time. Amazing.

X-Sync-opation

When using the free DJ Rig app, something amazing happens… you can automatically beat-sync tunes when the X-Sync button is active. With beat-syncing, there's never an awkward gap or pause in the music so you can keep the non-stop groove going and never miss a beat.

Fits in a bag

The ultra-compact size and low profile of the iRig MIX allows it to easily be carried in a regular iPad bag. Plus its low-voltage power supply (only 5VDC) allows it to be powered not only by any regular mobile device charger but also by suitable USB battery pack and laptop USB port for maximum mobility to mix anywhere.

DJ mixing with a single iOS device

DJ mixing with two iOS devices

Guitar input with real time effects

Vocal input with real time effects

Sync audio from one iOS device with any other audio source

iRig MIX powered by suitable iOS battery pack
Apps