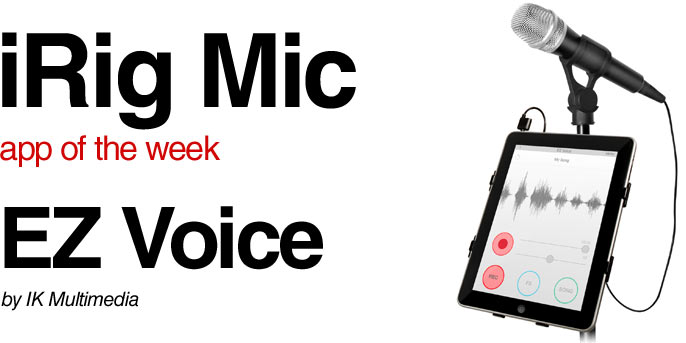 Now you can sing along with all of your favorite songs! EZ Voice is a companion app for iRig Voice and iRig MIC that lets you practice, perform and record vocals using the music in your mobile device's music library.

With EZ Voice, you'll always stand out and deliver a winning performance. Just pick a song from your library and let EZ Voice do the rest — its intuitive controls make it easy to remove original vocals, tune your voice and add fun vocal effects. Share your favorite performances with your friends and fans. It's the easy way to sound great and sing along with your favorite music anytime, anywhere.

EZ Voice Features:
Sing along with any song on your mobile device's music library or through iTunes File Sharing
Sing with or without a backing track
Quick and easy-to-use interface lets you sing anywhere, anytime
No Voice button removes original vocals from imported songs letting you take the lead
Polish your voice with 9 high-quality audio effects: Tune, Morph, Choir, EQ, Filter, Level, Chorus, Delay and Reverb (Reverb is free by registering — the other effects are available via in-app purchase)
Comes with factory effects presets for all singing styles
Preview, adjust and save effects combinations with ease
Lets you share your performances with your friends via SoundCloud and email
Sing using your mobile device's built-in mic or your earbuds' mic
For best performance, use the IK range of microphones, like iRig Voice, iRig Mic, iRig Mic Cast, iRig Pre, iRig MIC HD
More iRig MIC Cast apps

Voice Recorder HD
Quick, useful, unlimited high quality audio recording.
Quick, useful, unlimited high quality audio recording, gorgeous UI and easy to operate, "Voice Recorder HD" is a must have app for your iPad.
The difference between the iPhone and the iPad can be found in the number of apps each device comes pre-installed with. The iPhone features 20, the iPad only 13. One app noticeably absent from the iPad is "Voice Memos". "Voice Recorder HD" will fill that empty ness to make your iPad more worthy.
It is a high quality recorder for business man, audio professional, sound engineer, and anyone else who needs to manage voice memos.
Key Features:
Unlimited recording time
Background recording
Ability to configure audio quality
Share voice memo by email
Dropbox support
Transfer audio files to computer using USB (iTunes)
Recorded audio file can play on any OS
Tagging voice memos
Quick and simple to use
You will love to open this gorgeous app in front of your business clients or colleague during meeting.