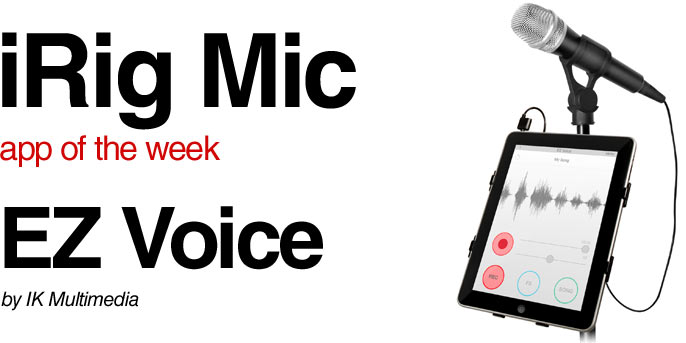 Now you can sing along with all of your favorite songs! EZ Voice is a companion app for iRig Voice and iRig MIC that lets you practice, perform and record vocals using the music in your mobile device's music library.

With EZ Voice, you'll always stand out and deliver a winning performance. Just pick a song from your library and let EZ Voice do the rest — its intuitive controls make it easy to remove original vocals, tune your voice and add fun vocal effects. Share your favorite performances with your friends and fans. It's the easy way to sound great and sing along with your favorite music anytime, anywhere.

EZ Voice Features:
Sing along with any song on your mobile device's music library or through iTunes File Sharing
Sing with or without a backing track
Quick and easy-to-use interface lets you sing anywhere, anytime
No Voice button removes original vocals from imported songs letting you take the lead
Polish your voice with 9 high-quality audio effects: Tune, Morph, Choir, EQ, Filter, Level, Chorus, Delay and Reverb (Reverb is free by registering — the other effects are available via in-app purchase)
Comes with factory effects presets for all singing styles
Preview, adjust and save effects combinations with ease
Lets you share your performances with your friends via SoundCloud and email
Sing using your mobile device's built-in mic or your earbuds' mic
For best performance, use the IK range of microphones, like iRig Voice, iRig Mic, iRig Mic Cast, iRig Pre, iRig MIC HD
More iRig MIC Cast apps
Karaoke Anywhere HD
Advanced Karaoke application for iPad.
Karaoke Anywhere HD is the world's first and only fully featured iPad karaoke application with a streaming library of over 13,000 songs!
Karaoke Anywhere HD is the world's first and only fully featured iPad karaoke application with a streaming library of over 13,000 songs!
** 50 FREE SONGS FROM A VARIETY OF ARTISTS AND GENRES AVAILABLE INSTANTLY! **
Features:
TV Output - iPad screen not big enough for your karaoke party? Output to your television with a standard audio / video cable!
Key changing functionality - Alter the key for playback to fit your vocal range.
Record, mix and share your performances in iTunes compatible format for later playback. Share to Twitter and Facebook directly from the application!
Full headphone monitoring during audio playback with optional REVERB and ECHO vocal FX.
50 FREE streaming songs included with the application.
Subscribe to Karaoke Anywhere PLUS for access to over 13,000 streaming songs for a low monthly fee.
Purchase individual songs from our library of over 40,000 tracks from the Digital Download Store.
Unlock achievements.
Join the community of Karaoke Anywhere HD users and vote songs up or down. May the best song win!
Bulk import / export songs (MP3+G) and performances via iTunes File Sharing for backup and playback.
The ONLY application featuring Chartbuster Karaoke songs, the best sounding backing tracks in the business!
Dock your iPad via Bluetooth or external speakers to sing along for a complete karaoke experience.
Fully compatible with the iRig Microphone.
Karaoke in high definition
Host your own karaoke party right from your iPad. With over 13,000 songs to choose from with a Karaoke Anywhere PLUS subscription, there's something for everyone.
Plays conventional karaoke files
Karaoke Anywhere HD uses the MP3+G ZIP format, the standard file format used by most karaoke DJs, to display the song's lyrics and graphics in sync with MP3 quality music. Now you can store and play your karaoke songs directly on your iPad.
Recording
You can record your performances for playback at a later time. Use vocal FX to enhance your voice and mix your vocals in realtime. Share to your Twitter or Facebook friends instantly!
Import songs you already own
Karaoke Anywhere HD allows you to import your own MP3+G ZIP files to the application and play them as you would on any other karaoke system. Simply upload your files directly from your computer to your iPad via iTunes File Sharing.
Fully compatible with karaoke anywhere for iPhone/iPod
Already a Karaoke Anywhere user? All of your purchases are available for download into Karaoke Anywhere HD via JoltSoft Connect.
Karaoke Anywhere PLUS subscription details
Subscription to our Karaoke Anywhere PLUS Platinum service is optional.
Your monthly subscription includes UNLIMITED access to the streaming content for thirty days.
If you choose to subscribe, your iTunes Account will be automatically billed $9.99 USD monthly.
Subscriptions automatically renew. To disable auto-renew, visit your iTunes Account Settings prior to 24-hours before the end of your monthly period.
As with all iTunes managed subscription services, no cancellation of your current subscription is allowed during the active subscription period.
You will be automatically billed monthly to your iTunes account, and you can cancel the auto-renew at any time. No surprises here!
Much like your local karaoke DJ, Karaoke Anywhere supports only MP3+G ZIP files. .KAR and other low quality formats are not supported.
We recommend a Wi-Fi connection when streaming karaoke songs with the Karaoke Anywhere PLUS service.

LaDiDa
Reverse karaoke app.
LaDiDa is a reverse karaoke app that uses artificial intelligence to help you sound like a professional singer. You SING or RAP into the phone, and LaDiDa will analyze your voice and compose music to match. Also works on melodic instruments such as GUITAR.
***NOW WITH PITCH CORRECTION AND REVERB***
Can't sing? Doesn't matter! LaDiDa can automatically tune your voice to the correct notes and add studio-quality vocal effects.
HOW TO USE LADIDA [headphones / speakers recommended]
RECORD: Choose your style & tempo and sing or rap into the mic.
PLAY: Press "play" to hear what LaDiDa creates! The music will match what you've sung. Listen to your song in different styles:
E Piano Pop
Rhythm Synth Pop
Dub Tone
Acoustic Rock
Unplugged
Bonfire
Guitar Six Eight
Offbeat Strum
Underground Rap
Tasty Breaks Rap
Dirty South Rap
A Capella
SHARE: Share your favorite songs with your friends on Facebook, Twitter and email.
DISCOVER: Discover new songs performed by other LaDiDa singers and be the judge!
**** IPOD TOUCH USERS: plug in a mic for recording. ****
LaDiDa brings the thrill of singing in a band to everyone! Sing into the mic on the Studio Page, and have LaDiDa accompany you.
LaDiDa turns your iPhone into a live band.
LaDiDa also uses tricks-of-the-trade to make your voice sound even better. It's a professional recording studio in your pocket.
Dream of starring on reality TV or "getting discovered"? This could be your chance! Sing your favorite songs into LaDiDa, and it will compose the music for you. Share on Facebook and Twitter for the world to hear your talent.
LaDiDa was developed by Khush. Visit them at http://www.khu.sh

MultiTrack DAW
The power of a digital audio workstation in the palm of your hand.
The power of a digital audio workstation in the palm of your hand.
Release your creativity with up to 24 high quality audio tracks. Record multiple takes, harmonies, solos, and experiments. No more worrying about bouncing tracks - each instrument can have its own. More cowbell? No problem!
Build new songs just like in a real recording studio, with the monitoring and overdubbing capabilities of MultiTrack DAW. Move and trim audio until it's perfect, and mix the sound until it's just right. Share your creations with Wi-Fi, iTunes file sharing, email, and SoundCloud.
MultiTrack supports pasting from other apps, and copying to other apps, as well as uploading and downloading audio files using Wi-Fi. Or use iTunes File Sharing to transfer audio files or final mixes (iOS3.2 or later).
Input options
MultiTrack has a wide range of input capabilities, including the built-in mic, iRig Mic, headset mics, doc connector mics, and on the iPad even USB mics and USB audio interfaces (requires the Camera Connection Kit). Please see our support forum for a list of all supported input devices.
Audio files
Supported file types for import include mp3, wav, aac, m4a, aif, and alac.
MultiTrack now offers FOUR ways to get audio files in: Wi-Fi, Copy/Paste, iTunes file sharing (iOS3.2 or later), and iPod Library Access (iOS4 or later).
And FIVE ways to get audio files out: Wi-Fi, Copy/Paste, Email, iTunes File Sharing, and SoundCloud.
Features:
Basic version has 8 stereo audio tracks, upgradable to 24
44.1kHz, 16 bit, CD quality sound for each track
Non-linear, non-destructive editing using Regions and Bins
Multiple levels of Undo and Redo
Metronome adjustable from 40 to 240 BPM
Time Signatures (2/2, 2/4, 3/4, 4/4, 5/4, 7/4, 6/8, 7/8, 9/8, and 12/8)
Ruler showing bars/beats/divisions/ticks or timecode
Individual controls for pan, volume, mute and solo
Bounce Regions using multi-region copy and paste
Looping with the Loop Markers
In-app help always grabs the latest help file if network is available
New Bin Browser allows preview of audio files in the song
New Hotbox popup control with context sensitive buttons
Snap - snaps the Timebar to Ruler lines
Punch - automatically starts and stops recording at precise times
Auto Input - allows monitoring the track underneath until punch points
Crossfading uses cubic interpolation to eliminate clicks and pops
Beautifully rendered waveforms of all tracks at multiple zoom levels
VU meters for each track
32 bit internal pathways
Multi-touch pinch/zoom support
Speaker/Receiver selection switch for iPhone
Input enable buttons for left and right (for stereo microphones)
Copy and Paste to and from other apps
Selectable input monitoring
Selectable latency with compensation
Recorded material perfectly synced with other tracks
Native iPad support (landscape and portrait, up to 11 tracks visible)
iPad USB Audio using Camera Connection Kit
Wav, Ogg, and AAC compression for Wi-Fi download, mixdown, email attachments, and SoundCloud upload
The original iPhone and iPod touch require an external microphone like the iRig Mic or a headset mic.
Stereo recording requires a stereo microphone (please see our support forum for details).
iPad USB Audio requires the Camera Connection Kit.
'iPod Library Access' cannot read protected DRM files. There is currently no way to write to the library.

n-Track Studio
Audio multitrack recorder.
n-Track Studio is an audio multitrack recorder that turns your iPhone, iPad or iPod touch into a full-fledged recording studio. You can record and playback a virtually unlimited number of audio tracks and mix them during playback.
You can also edit, cut, copy and paste, zoom and drag waveforms. All the audio tracks are saved as standard wave files and mixed "on the fly" during playback.
Once you are satisfied with the recording you can mixdown the recorded song in standard .wav format which you can later open with any 3rd party audio application or use to create an audio CD. You can also export the song in multitrack .sng format and open it with the desktop (Mac and Windows) version of n-Track.
2nd and 3rd generation iPod Touch devices require an external mic.
How it works
Record a base track (i.e. rithm guitar) with the built-in mic
Plug a standard headphone, record a solo or vocal track while listening to the rithm track
Press play to listen to the multitrack recording, use the mixer to adjust levels, pan, apply EQ
Main features
The max number of tracks depends on device model, with the iPad or iPhone 4 you can typically use up to 10 tracks
EQ with Spectrum analyzer + chromatic guitar Tuner
Import existing tracks from your iTunes library
Takes advantage of dual-core CPU performace when used on the iPad 2
n-Track is currently the only cross-platform multitrack recording software available for Windows, Mac, iPhone, iPad and iPod

NanoStudio
Recording studio for iPhone/iPod touch.
NanoStudio is a recording studio for iPhone/iPod Touch. It has virtual analogue synths, sample trigger pads, a comprehensive sequencer, a sample editor, a mixer and multiple effects all integrated into a single application.
Record your ideas in real time, mix synth layers with samples, compose and arrange your tune using the powerful sequencer and bring the mix alive with effects such as reverb, compression and EQ. Share your tune on SoundCloud from wherever you are or use the comprehensive audio mixdown options and MIDI export feature to get your ideas over to your desktop DAW when you get back home.
NanoStudio's intuitive user interface frees you to get creative yet has loads of depth for when you need it. To try it out head on over to our website where you can download the OS X and Windows versions for free!
INSTRUMENTS
Up to 6 simultaneous instruments (including mixer) or upgrade with the '16 Instrument Tracks' in-app purchase, particularly recommended for newer devices.
'Eden', a powerful 16 voice subtractive synth with dual oscillators, 2 pole resonant filter, 3 envelope generators and 4 LFO's per voice and 2 dedicated insert effects. Eden's virtual patchbay lets you hook up almost anything for modulation mayhem.
The 'TRG-16', a performance pad for triggering samples. Adjust pitch, pan, volume and envelopes and assign each sample to one of the 3 output busses, each with its own effect sends and filter setup.
SAMPLING
Record samples with the built-in mic (iPod Touch requires external mic), resample NanoStudio's own output or upload your own samples using NanoSync for OS X/Windows. Edit your samples using NanoStudio's built-in wave editing tools (with multiple undo/redo) and process them offline with custom effects chains.
SEQUENCER
Record performances in real-time using the keys and trigger pads or create patterns and controller sweeps by drawing them in the piano roll editor. Arrange your patterns into a complete song using the track editor. You can edit while the song is playing and every operation has multiple undo/redo.
MASTERING
Nanostudio's mixer has 2 global effects sends, 4 insert effects per channel and you can record, edit and playback all your fader and pan changes. When you're ready to share your mix with others you can upload it direct to SoundCloud or use NanoSync to copy the exported .wav file to your Mac/PC.
EFFECTS
NanoStudio's reverb, compressor, parametric EQ, waveshaper, delay, chorus, and bitcrusher effects are all highly optimized so you can run lots of them.
FEATURE SHORTLIST (loads more at www.blipinteractive.co.uk)
6 simultaneous instruments, up to 16 with in-app purchase
MIDI input with the Line 6 MIDI Mobilizer, Akai SynthStation 25 and Core MIDI
Audio copy/paste for sharing audio with other compatible apps (Sonoma and Intua standards supported)
Upload your mix directly to SoundCloud
Eden synth (also plays samples) - single or dual keyboards, XY controllers, pitch bend and accelerometer control
TRG-16 sample trigger pads
Sequencer with up to 64 tracks and a piano roll editor for note, velocity and controller events, all with undo/redo
Mixer with 4 inserts per channel, 2 global send busses and volume/pan automation on every channel
Sampling and resampling, sample editor and effects processor with undo/redo
Transfer samples, final mixes and individual track mixdowns to your Mac/PC using NanoSync
Built in help

Peter Vogel CMI Pro
Byte-perfect re-issue of the classic sounds of the 80s.
By Fairlight Instruments Pty Ltd
NOTE: Do not buy this if you have already bought the Fairlight App. Save money by using its in-App upgrade. If you are not sure you want the Pro features, buy the Fairlight App.
Experience music making '80s style with this awesome retro app, modelled on the legendary Fairlight Computer Musical Instrument.
Preloaded with 500+ CMI Series II sounds and 100+ Series III sounds, for the first time a byte-perfect re-issue of the classic CMI sounds of the 80s.
This app includes the famous 'Page R', which was the world's first screen-based rhythm sequencer. Today every sampler, digital synthesiser, sequencer and audio workstation can trace its lineage back to this legendary machine.
Now you can make music using tools like those used by artists including Alan Parsons, Jean Michel Jarre, Trevor Horn, Thomas Dolby, Brian Eno, Kate Bush, Peter Gabriel, Stevie Wonder and so many more.
This app is a part midi player, part creative tool and part history lesson – developed by Fairlight staff who worked on the CMI in the '80s.
Features:
Entire original Fairlight CMI IIX Sound library containing 564 voices*
100+ selected CMI III sounds
Play the CMI voices from an external MIDI input (supports Core Midi, Line6 MidiMobilizer or Akai SynthStation), or use the on-screen keyboard*
Sample your own voices from the microphone or line in, then use them in your compositions
Display voices graphically using the iconic Page D, and change your viewpoint by tilting your iPhone/iPad*
Authentic Fairlight CMI user interface experience, including floppy disk quirks*
8 track composition using 'Page R' pattern-based sequencer
create instrument sets that store settings for all 8 channels, including the voices, pitch shifts, volumes, release times etc.
Import/export voices, compositions, MIDI and instruments and exchange with others
* These features also available on the lower cost 'Player' version of the Fairlight App.

ProStudio
Mobile multi-Track Recording Studio.
ProStudio's is a Mobile multi-Track Recording Studio in your Pocket.
Pre- Selected Beats from industry Platinum & Grammy Awarded & Nominated Producers & Song writers.
"ProStudioApp application is dope for putting ideas on the Run." Grammy R&B Artist Mario Stated.
"Very impressed with the quality of ProStudioApp." Singer Micheal Sarver Stated.
Features:
Import any instrumental from your Music Libary on your Device
Record up to 4 layers of audio Tracks
Track Length - Unlimited
Record Quality - 44.001 kHz Higher
Email your projects directly from the app
Input Audio Decibel meter
Calibrating Faders
Import any instrumental you from your computer. (M4A/AAC FORMAT ONLY)
Latency compensation - within 1 ms
Unlimited Project
Live Audio Monitoring
Unlimited Instrumental count
Importing and exporting on Wi-Fi
Export Sounds into Computer and Burn to CD
Export sounds to Mixing Software of your choice
Purchase more Instrumentals (Top Recording Producers)
Simply Make a Song in a matter of minutes.
Coming Soon:
Vocal Plugins
Vocal Editing
Use your Earphones to record to eliminate Feedback.

Recorder & Editor ~ iSaidWhat?! ~
Record, import, cut, arrange, share.
Record, Import, Cut, Arrange, Share — With the ability to adjust the sensitivity of the mic, cut snippets using a very precise zoomable waveform, combine snippets from multiple recordings, make your own Soundboard, import files via WiFi / iTunes, and output files via Email / WiFi / Facebook / Twitter / iTunes, this app becomes really useful real fast.
Record voice notes, interviews, lectures, ambient sounds, podcasts, etc; Cut out parts most important to you and share it with ease.
Have a little fun with audio by recording someone saying something and rearranging it into something completely different (preferably embarrassing)
Import audio files via WiFi or iTunes and edit them on the go. Export those edits when you're done and use them as you will, saving yourself valuable time.
There's a ton of different things you can do with this full featured app, and at this price you really can't go wrong.
Go to www.tapparatus.com for a fun video demo or to email us with any questions or issues. Please remember that there is no way for us to respond/help via comments, so email us if you have any questions or concerns.
PS. For those who think we have a silly name for an app that is extremely useful, I kind of agree, but c'mon, why does everything have to be so serious?!
Record Features:
Record in the background with iOS4
Real time audio wave lets you visualize what you're recording
Adjustable mic sensitivity lets you record from further away, or avoid clipping of loud audio, resulting in the best possible recording
Script view lets you have notes in front of you while recording
Auto save makes sure you never loose a recording if you close out by mistake
Tip: Flip the device 180deg to have the mic on top
Import Features:
You can import any audio file via WiFi over the same local network
You can import any audio file via iTunes in the apps section. Simply copy the file to the app and it will recognize it next time you open the app
Tip: You can even import some video formats like mp4 and it will extract the audio for you
Cut Features:
Zoom in/out of the waveform for precise selections using pinch gestures
Play the selected snippet or the entire recording
Tip: Double tap Play/Pause to start from beginning
Tip: Press and hold the wave if you don't want it to scroll while playing
Arrange Features:
Use snippets from multiple recordings
Add pauses, rearrange, duplicate, or delete any snippet
Fine tune snippet selection without leaving the screen
Tip: Double tap Play/Pause to start from beginning
Tip: Rotate the device 90deg to get a Soundboard view — play your snippets by tapping around
Share Features:
Share your creative arrangement or the original recording
Email as an attachment in high or low quality
Use your local network via ip or bonjour
Post on your Facebook wall or one of your friend's
Tweet it to the world or as a direct message to a friend
Download the original recording via iTunes sharing in the app section
Tip: You can copy/paste twitter's share link to send it some other way
Requirements/Notes:
iPhone or iPod Touch with 3.0 firmware or later
Note: iPod Touch will require an external microphone, like iRig Mic, to record
Note: iPod Touch 1st Gen will require an external dock-based microphone
Note: Due to iPhone limitations, you will not be able to record during a phone call

sir Sampleton
Keyboard sampler.
sir Sampleton is a sampling keyboard, which means it can record sounds through the microphone that you can then play on a keyboard. You can sample and then make music with your voice, noisy objects you find around the house, or almost anything that makes a sound.
sir Sampleton is inspired by sampling Casio and Yamaha toy keyboards of the 80's. These classic keyboards were great toys, but are now expensive because they are sought after by professional musicians for their warm, low-fi sound and simple operation. Now, it's possible to have similar sound and functionality in an app, plus the features that you wish the old keyboards had, like the ability to save samples.
Features:
Sample through the microphone and then play your samples on the dual keyboards
Save and recall your samples
Add rhythm with the built-in beats and random beat generator
Tweak advanced sound settings like vibrato, note trail length, and sample time
Put one sample on each keyboard in dual-sample mode
Tracks up to five fingers at once
Ten voices
Supports the optional iRig external audio input adapter and iRig microphone
Instructions:
TO SAMPLE: press the red button and speak into the microphone. It will sample for about 3 seconds.
TO PLAY A DRUM BEAT: press the drum icon button in the upper left to open the Rhythm Menu, and then select the beat you want to play. To change the tempo or beat volume, use the buttons on the right. Press the X to return to the keyboard.
TO GENERATE A RANDOM BEAT: press the drum icon button to open the Rhythm Menu, and then press the RANDOM button. To generate a new random beat, press the button again.
TO SAVE A SAMPLE: press the keyboard icon button in the upper left to open the Sounds Menu. Press SAVE and then choose one of the flashing numbered buttons. Your sample is then saved on that button. Press the X to return to the keyboard.
TO LOAD A SAMPLE: press the keyboard icon button in the upper left to open the Sounds Menu. Press the numbered button where you saved the sample. Press the X to return to the keyboard.
TO HEAR A SAVED SAMPLE: press and hold the numbered button in the Sounds Menu.
To Musicians:
sir Sampleton does not give you a lot of precise control or editing ability, but what's nice about the Casio SK-1 and other similar 80's samplers is that they're simple and they just work. You aren't setting levels or fumbling around with patch parameters, you just press sample and make a sound, and the resulting sample sounds good. My app duplicates that feel. I compress the sampled input so you don't have to set levels. I've made quite a few subtle adjustments to the sound to try to maintain the low-fidelity charm of older samplers, coupled with a simple, intuitive interface. You'll like making music with sir Sampleton if you like working within thoughtfully crafted limitations.

SpeechMaker
Create, practice, archive and give live speeches.
Create, Practice, Hear and Give Speeches - Like a teleprompter for speeches only much more. $5.99 for 1 week only then 14.99.
Welcome you to the SpeechMaker app for iPad. SpeechMaker is designed to give students, politicians, or any speech maker everything needed to create, practice, hear and give speeches. It can archive thousands of speeches. SpeechMaker comes with a number of famous speeches built in some include the original audio. SpeechMaker can import and export the text and audio of speeches in a variety of ways.
SpeechMaker is like a personal teleprompter. SpeechMaker has features that expensive teleprompters don't have like being able to do an audio recording of your practice or live oration. Now you can practice and hear how you sound before you give that important speech. Get a feeling for the cadence and the flow of a speech. Another feature not found in other iPad software or in teleprompters is Text to Speech (TTS). TTS is available anytime at the push of a button which will then scroll and read your speech out loud.
Features:
Create new speeches on the iPad or import text, html or google docs
Audio recording allows you to see, scroll and practice your speech like using a teleprompter
Text to Speech (TTS) hear the iPad speak out loud the speech as it scrolls and highlights each line
Control the look and feel of a document via buttons for changing background color, fonts, scroll speed, font size
Buttons and gestures to start, stop and control scroll speed
Touch gestures:

pinch or zoom to easily raise or lower font size
tap to instantly start and stop
tap the right side to speed scrolling or left side to slow scrolling

At a glance timing shows

track elapsed time
remaining time for speech
estimated time of speech

Archive thousands of speeches
Import Speeches via DropBox, Google Docs and iTunes file sharing
Import audio via Email and iTunes file sharing
Export speech text via Email and iTunes file sharing
Compatible with Mac or Windows computers connected to your iPad