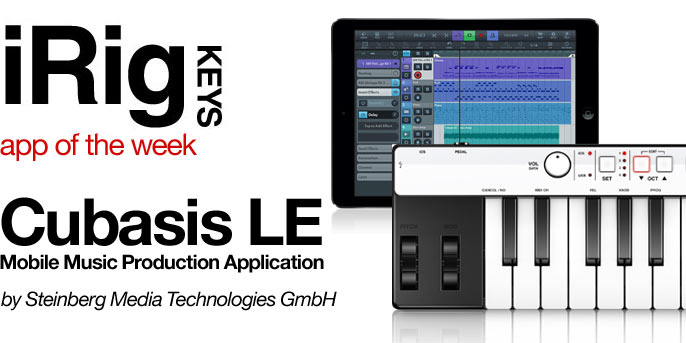 Cubasis LE is the compact version of Steinberg's streamlined, multitouch sequencer for the iPad, providing the same look and feel of its bigger brother Cubasis. Specially designed for quick and easy operation, Cubasis LE makes recording, editing and mixing a breeze. With MicroSonic, Cubasis LE includes a virtual instrument to be played in real time using the flexible virtual keyboard. Song ideas can be captured with up to four audio and four MIDI tracks and further edited and polished to perfection with the integrated editors, mixer and selected effects. Thanks to the Cubasis project importer, Cubasis LE projects can be even opened in Cubase - both on Windows and OS X. With touch-intuitive production tools, Cubasis LE opens up a new world of possibilities for your creativity.

Key features:
Up to 4 audio and 4 MIDI tracks
2 assignable physical inputs and stereo output
32-bit floating point audio engine
Audio I/O resolution of 16-bit/44.1 kHz
iOS 32 and 64-bit support (depending on the device used)
MicroSonic with 25 virtual instrument sounds
Mixer with 4 effect processors
Virtual keyboard
Sample Editor and Key Editor
Export to Cubase
Core Audio and Core MIDI compatible hardware supported
Import audio from your iTunes music library
Audio mixdown and MIDI export
Unlock all the features of the full Cubasis version via in-app purchase
More iRig Keys Pro apps

Super Manetron : Mellotron Simulator
Genuine sound sampled from Mellotron M400S manufactured in the 70's.
Super Manetron is the Mellotron for iPhone and iPod touch. Genuine sound sampled from Mellotron M400S (serial number 761) manufactured in the 70's.
The Mellotron is an vintage sampling keyboard by analog tapes. The Mellotron had a strong impact on rock music, becoming a trademark sound of the progressive rock bands.

You can see an internal mechanism (tape running animation) and can enjoy simulation of Mellotron with eyes and an ear.

Features:
Core MIDI compatible
35Kyes of sampled sounds from Mellotron M400S serial number 761 manufactured in the 70's.
8 sec PCM full sampling sounds each Key
Scrollable Keyboard & dual Keyboards with switchable key width
No loop sounds (real performance feeling)
Pre-loaded with 7 instruments including Flute, 3violins (Strings), Cello, Oboe, 8-voice Choir, Vibes, Brass
7 instrument sounds can be set as the favorite position of A,B,C position on setting screen
A+B, B+C mix sounds position
The sound of motor and tape rewind mechanical noise
Tape running animation
Pitch control by accelerometer
Built-in Reverb that simulates spring reverb
Original sounds source are recorded by 96KHz/24 bits
Compiled under the supervision of Fumitaka Anzai (Famous vintage keyboard player & collector of Japan)

Symphonix Evolution Player
MIDI file player.
Symphonix Evolution Player is a basic MIDI file player that supports General MIDI files using the GM/GS specification with up to 16 tracks. It also allows you to play Symphonix Evolution files created in our Symphonix Evolution iPad app on your iPhone using a suite of over 150 wavetable instruments!
Open MIDI files directly from Safari or Mail, or drag them into iTunes on your PC and sync to your device.
Symphonix Evolution Player also contains a Piano Roll viewer and editor that allows some basic note editing and quantization to be applied (Use our Symphonix Evolution app for full notation editing and MIDI recording). Core MIDI output is supported for the iPad using a suitable interface connected to IK Multimedia's iRig MIDI.

SynthX
Virtual analog synthesizer.
Beginner or pro, SynthX is great fun and candy for your ears and eyes.
Created from the same technology that Way Out Ware used to create TimewARP 2600 and KikAXXE, SynthX is a great sounding virtual analog synthesizer for the iOS platform.
You can chose to play using the intuitive XY mode that automatically makes every touch tuned to the selected scale, grid mode where you explore harmonies in a fun new way, and the keys mode that provides a standard piano keyboard.
A mathematically modeled synthesizer, SynthX contains no samples. As a result, it is very small in size, yet it has an extremely large and professionally design sound library.
An effects chain including distortion, flanger, delay and limiter are included. Additionally, a separate identical effects chain is provided to process an external signal connected to the iPad's audio input.
SynthX has been designed from the beginning for the iPad and multi-touch. It has a comprehensive MIDI implementation using CoreMIDI including MIDI Note send and receive and MIDI Beat Clock LFO sync.

XENON Groove Synthesizer
Full-featured music application
XENON is now a universal binary for iPhone, iPod Touch and iPad.
XENON includes polyphonic hybrid synthesizer, 2 x VA monophonic synthesizer, polyphonic PCM synthesizer, rhythm machine, sequencer, mixer and a number of sound presets(363) are also included. All parts of xenon allow you make sound, song, and enjoy performance anytime, anywhere.
Please visit our website for checking out a demo video and detailed usage instructions.
Hybrid Polyphonic Synthesizer
(V.Analog, FM, Formant, PCM(112))
2OSC + FILTER + AMP + 4LFO + 8ENV
210 factory presets
V.Analog Monophonic Synthesizer x2
2OSC + FILTER + AMP + 3LFO + 6ENV
45 factory presets
PCM Polyphonic Synthesizer
OSC (112 PCM sounds) + FILTER + AMP + 3LFO + 6ENV
108 factory presets
Rhythm Machine for six tracks
Pattern Sequencer
16 step Pattern Sequencer
Real-Time Recording
Pattern export as a wav file or copy to clipboard (compatible with Intua Beatmaker)
Song Sequencer
Make your own song using pattern
Song export as a .wav file or copy to clipboard. (compatible with Intua Beatmaker)
Mixer

Z3TA+
Legendary waveshaping at your fingertips.
The legendary Z3TA+ synthesizer has been used on countless records, and it's distinctive sound has been a staple of electronic artists the world over. And now Z3TA+ iOS puts the full power of Z3TA+2 on your iPad. Packed with hundreds of presets, modulatable waveshaping, dual mode filters, and flexible effects, Z3TA+ iOS is the perfect creative synth for making music anywhere, anytime.

Feature Highlights:
Includes over 500 presets
User-friendly on-screen Keyboard and external MIDI control
Waveshaping synthesis with 6 Oscillators, 6 LFOs, and more
Modulation Matrix including 16 Sources, Curves, Controls, and Destinations
Advanced modular effects including Distortion, Mod, Compression and more
Performance section with Tap Tempo, assignable XY Pad, Mod Wheels, and Adaptive Pitch Bend
Inter-App Audio, Background Audio, and Audiobus support
Z3TA+iOS will be there to quench your thirst for sound design when you're
working behind your studio rig, or on the road. It embodies every characteristic of the original synthesizer with a brand new performance section full of parameters to twist and turn your programs on the fly. Z3TA+iOS is perfect for both experienced and new users especially when connecting to other audio applications using Audiobus and Inter-App Audio. Plugin in any iPad compatible MIDI controller and take your performance to the stage.