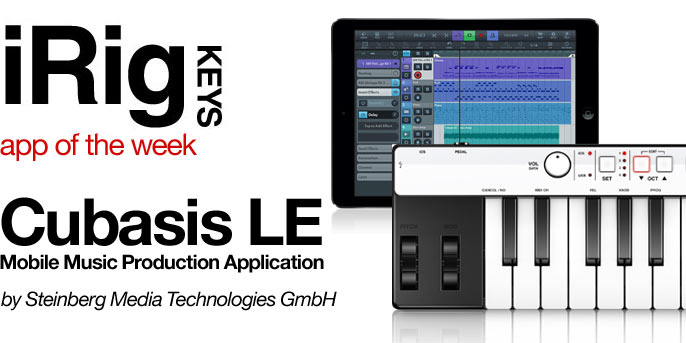 Cubasis LE is the compact version of Steinberg's streamlined, multitouch sequencer for the iPad, providing the same look and feel of its bigger brother Cubasis. Specially designed for quick and easy operation, Cubasis LE makes recording, editing and mixing a breeze. With MicroSonic, Cubasis LE includes a virtual instrument to be played in real time using the flexible virtual keyboard. Song ideas can be captured with up to four audio and four MIDI tracks and further edited and polished to perfection with the integrated editors, mixer and selected effects. Thanks to the Cubasis project importer, Cubasis LE projects can be even opened in Cubase - both on Windows and OS X. With touch-intuitive production tools, Cubasis LE opens up a new world of possibilities for your creativity.

Key features:
Up to 4 audio and 4 MIDI tracks
2 assignable physical inputs and stereo output
32-bit floating point audio engine
Audio I/O resolution of 16-bit/44.1 kHz
iOS 32 and 64-bit support (depending on the device used)
MicroSonic with 25 virtual instrument sounds
Mixer with 4 effect processors
Virtual keyboard
Sample Editor and Key Editor
Export to Cubase
Core Audio and Core MIDI compatible hardware supported
Import audio from your iTunes music library
Audio mixdown and MIDI export
Unlock all the features of the full Cubasis version via in-app purchase
More iRig Keys Pro apps

KinderKlavier
A realistic toy piano instrument for iPad, iPhone, and iPod Touch.
KinderKlavier is a realistic toy piano instrument for iPad, iPhone, and iPod Touch.

KinderKlavier features sounds professionally sampled in a world-class recording facility from each key of a real vintage toy piano.

KinderKlavier for iPad features all twenty-five depressible keys of the specimen with realistic action, while KinderKlavier for iPhone/iPod Touch features thirteen depressible keys and an octave shift button. To play the notes from the higher keys, simply touch the symbol in the upper left corner on your iPhone/iPod Touch.

KinderKlavier is CoreMIDI-enabled and can be played over Wi-Fi or used as a Wi-Fi midi controller.

Koushion
MIDI controller.

MIDI Drums
MIDI drum controller.
MIDI Drums is a Live Performance General MIDI Drum Controller that uses built-in CoreMIDI functionality over your WiFi network or USB when used with an iRig MIDI.
MIDI Drums features Maui Media Lab LLC's unique reflexive drum pad for exceptional playability. No additional software needs to be downloaded or installed on anything.
MIDI Drums works with Logic, Digital Performer, Pro Tools or any other MIDI application or General MIDI compatible synthesizer, sampler or drum machine.

miniSynth PRO
Virtual analogue synthesizer.
miniSynth PRO is a fully-featured, professional-grade virtual analogue synthesizer. It can work as a polyphonic or a monophonic synthesizer at the flip of a switch. It incorporates an improved version of the time proven zero latency "push-pull" Yonac keyboard algorithm that powers our existing synthesizers, and features a highly customized version of our original analogue-clone "Vincent" tone shaping filter. More importantly, it marks the debut of our brand new cutting-edge YASSE (pronounced "Yah-See") modular sound sequencing and synthesis engine, developed in our labs over the last three years.
As a step up on its predecessors, miniSynth PRO is designed as an FM / Subtractive hybrid synth. Among other innovations, it features our special dynamic waveform selection algorithm, individually parameterized voice processing, and carefully selected waveforms driving its dual interactive oscillators and its five-destination LFO.
miniSynth PRO offers many other features to render music making easier. They include a dedicated arpeggiator module, dual individually adjustable keyboards, user control matrix with configurable assignments, and 82 presets designed by actual musicians. Did we also mention that users are able to record their own performances, as well as save and recall any number of their own presets in our brand-new patch design format?

Molten Drum Machine
Drum machine.
Molten is a powerful and intuitive tool for creating percussive sounds and rhythm sequences for the iPad.
Using a revolutionary approach to grid based pattern sequencing that divides time to instantly add tuplets and fills to your drum programming.
Built on a versatile synthesizer that allows you to play and process your own sound samples. The kits can be mangled, filtered and crushed using the multi-touch interface.
Load and store your patterns and share them with your friends. Export to a standard MIDI file and import into a professional digital audio workstation.
Connect to your Mac with CoreMIDI networking over Wi-Fi or USB with IK Multimedia's iRig MIDI and transmit the sequence in real-time to your hardware.

Music Studio
Music production studio.
Music Studio offers a complete music production environment for the iPad/iPhone/iPod touch with features and a sound quality previously only known to desktop applications and expensive audio hardware.
It combines a piano keyboard, 65 studio-quality instruments with sustain, a fully fledged 127-track sequencer, extensive note editing, reverb, real-time effects and much more on a user-friendly interface.

NLogSynth PRO
Professional virtual analogue synthesizer.
Professional Virtual Analogue Synthesizer supporting Core MIDI, WIST and interfaces from, IK Multimedia & others.
Most versatile iOS synth with professional grade virtual analogue low latency sound engine.
Supports external MIDI input and output via IK Multimedia's iRig MIDI, and any class compliant USB MIDI interface.
Full MIDI implementation for note on/off including velocity control, pitch bend, sustain pedal, modulation wheel, program & bank change and assignable midi controller & MIDI Sync receiving mode.

Piano Tutor for iPad
Practice piano on iPad.
Now you can practice your piano skills anywhere with your iPad! For piano beginners, one of the most critical skills is learning how to read the piano sheet. The faster you can read the notes, the easier it is to play beautiful music. This app is developed to help you improve your piano sheet reading skills. Therefore unlike many of the other piano apps, this app is both fun and educational! We also just added MIDI keyboard support, so you can practice with a real keyboard.
When the game starts, Piano Tutor will display some random notes on the piano sheet. Simply try to play the note as fast as you can! When the game is over, you will see on average how long it takes for you to recognize the correct note.
Features:
Realistic and beautiful piano sounds
Treble and Bass mode, for practicing both your left hand and right hand
Various key signatures, for practicing sharps and flats
Option to turn on key hints for beginners
High score tracking, to see if you are improving
MIDI Keyboard support

Pocket Organ C3B3
A musical keyboard application for iPhone/iPod touch that simulates an Organ.
Pocket Organ C3B3 is a musical keyboard application for iPhone/iPod touch that simulates an Organ. The sound is generated with the synthesis of the waveforms from "Virtual Tonewheel System" controlled by 9 drawbars. You will be surprised at the real sound generated from this App! Pocket Organ C3B3 is an Organ in your pocket.

Pocket Organ C3B3 has a rotary speaker effect, which adds amazing realistic character and spatial depth on your organ playing. This effect can be changed to Fast (Tremolo), Slow (Chorale), or even Off (brakes). Visit our website to listen to the realistic and authentic sound!

Features:
Pocket Organ C3B3 is programmed by Shinya Kasatani, the creator of best selling iPhone App "PocketGuitar" and is designed by Junichiro Yamasaki of "Manetron (Mellotron App)".
Authentic emulated sounds generated from "Virtual Tonewheel System" mixed by sliding 9 drawbars
61key + 61key, 5-octave Dual Keyboards with switchable key width (only for iPone/iPod touch, 8 white keys or 10 white keys on screen)
Scrollable Keyboard that can be configured to your own octave key range on screen with 4 preset buttons
Key transpose function (You can play a music of any key in the key of C)
Rotary Speaker effect can be changed to Fast (Tremolo), Slow (Chorale), or even Off (brakes).
Harmonic Percussion effect with adjustable decay, 2nd and 3rd harmonic
Keyclick noise effect
Built-in Reverb that simulates spring reverb
Overdrive effects
Scanner vibrato & chorus
Shake your iPhone to play spring shock (reverb crash) effect like Jon Lord (keyboard player of Deep Purple) or Keith Emerson (a member of the Emerson, Lake & Palmer, ELP).
iPhone's built-in accelerometer gives you amazing glissando effect control.
20 Factory Presets containing typical settings used by Rock, Jazz or Gospel Sounds
You can add the User Memory Bank that allows you to store your own 20 patches (drawbars & effects settings) & Preset Packages with In App Purchase.

SampleTank
Pro-quality sound & groove workstation.
Now make record-ready music on your iPhone/iPod touch/iPad with hundreds of pro-quality sounds and patterns.
SampleTank is the first professional-quality sound and groove module that puts hundreds of world-class instruments and patterns in your pocket. You can play SampleTank instruments on stage with the iRig MIDI interface and a keyboard or pad controller just as you would with a regular sound or synthesizer module, or you can use the built-in tools to create inspiring, professional-sounding music on the go.
Got an idea? Grab your iPhone/iPod touch/iPad! SampleTank instruments give you unmatched realism, sound variety and audio performance – a true premier for the iOS world. For the first time on this platform, hundreds of professional sample-based sounds and patterns can be easily accessed, layered and used for playing live. The built-in 4-track MIDI recorder lets you create beats, grooves, ideas and even complete songs. You can make music anytime and anywhere the inspiration hits you. SampleTank is the most compact sound and groove workstation ever made.
SampleTank gives you an astounding 16 instrument categories containing over 500 instruments that cover virtually every acoustic, electric and electronic sound you may need. Choose drums, pianos, bass, guitars, synthesizers, strings, percussion — whatever your sound needs may be, it's there. Plus, each category includes instrument patterns and grooves, so you can immediately utilize and experiment with over 1,000 patterns and grooves. Plus, SampleTank expansion sound packs allow you to pick and choose only the sounds you need, when you need them.
Okay, so we made that one up. But it means that you can have up to 4 simultaneous instrument parts, perfect for playing live. Use them to build a full rhythmic groove or to layer sounds together for rich creative sounds. Groovy.
Again, yes… we made it up. It means that you get the same sound and performance quality from our mobile app that you'd expect from our high-end professional studio products. And you do. Lightning-fast sound loading and near-zero latency makes putting the groove in your pocket an easy thing to do. So get in the pocket and get SampleTank.
Features:
4-part multi-timbral professional quality sound and groove workstation
Expandable sound library with more than 500 instruments in 16 categories
Over 1,000 melodic and rhythmic patterns for groove creation or accompaniment
Included 4-track MIDI recorder with audio export
Built-in insert effects and master reverb
Easy-to-use, intuitive interface
Sound and effects editing with multiple parameters
Play interface with piano keyboard, scale-based keyboard and drum pads
Compatible with iPhone 4S, 4 and 3GS, iPod touch 4th and 3rd generation, iPad 2 and iPad with iOS 4.3 and newer
Designed in concert with iRig MIDI interface for iOS devices
Free version also available