Reviews
"Another innovative product from IK Multimedia!"
6 February 2017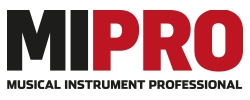 Reviewing iRig Acoustic Stage in MI Pro, editor Laura Barnes was impressed by its ease of use and sound quality. Here are some of her key comments:
"The MEMS (MicroElectrical-Mechanical System) microphone is designed to capture a flat but detailed frequency, and is rather cool in that it's shaped like a large plectrum."
"The whole system comes neatly packaged in a zipped hard case with internal pockets to keep all the unit's pieces together."
"The sound was clean and natural with good input levels, too."
"For musicians looking to record acoustic demos and ideas 'on the fly' this is a great addition."
"It should also be noted that it can be used with IK Multimedia's superb AmpliTube Acoustic App, offering further tweaks to the tone and sound."
Laura's final verdict is:
"The iRig Acoustic Stage system is a cost-effective microphone solution for the acoustic performer, providing a superb natural tone and nice selection of functions at a fraction of the price of other live pickup solutions ... another innovative product from IK Multimedia."
Read the full MI Pro review here
Learn more about iRig Acoustic Stage here