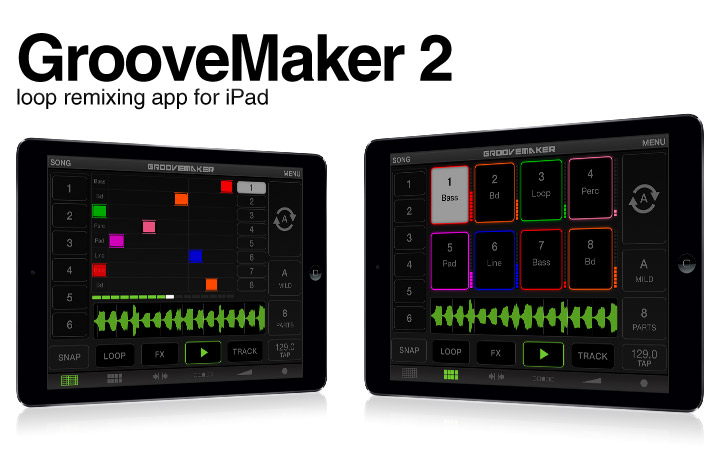 GrooveMaker 2 - Remixing Reinvented
Loop remixing taken to
a whole new dimension
GrooveMaker® 2 is the evolution of the revolutionary iPad app that lets you to create non-stop electronic, dance and hip-hop tracks, in real-time, anywhere, with results that sound like they were produced by a professional DJ.
Making music with loops will never be the same.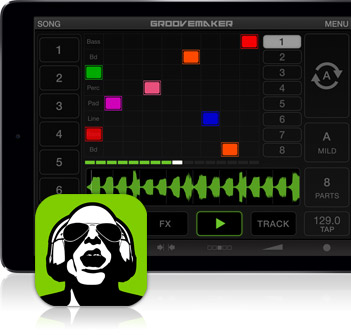 GrooveMaker 2 what's new
Completely redesigned interface with iOS 8 style and gesture integration
New single application allows you to have all your loop collections in one place via in-app purchase (any GrooveMaker 1 loop packs you bought previously are unlocked and useable in Groovemaker 2 upon registration)
Song packs available for in-app purchase (3-5 "songs" per pack) in styles such as EDM, DubStep, House, Hip Hop, Techno, Trance, Electro, D'n'B, Reggae, Reggaeton and Rock plus artist's packs
New song pack available: Chill Out, Electro Funk, Minimal
Plug and play iRig Pads support with two modes: Groove and Launch
iRing integration available
New Matrix interface allows for simplified loop remixing – even by drawing
More flexible management of the Randomix algorithm
Durations of single loops can now be freely set
Durations of saved grooves can be freely set between 1/2 bar and 8 bars, and dramatic rhythmic effects created by pressing quarter-note to 32nd-note division buttons
16 FX with automation and touch-pad-like interface
IMPORT functions allow you to easily import audio files or record your own and integrate them within the existing collection
New high quality time-stretch for seamless groove tempo variation from 50% to 200% of original BPM without affecting the pitch
Real-time recorder for capturing your remixing performances
Master control with Compressor, EQ and Filter
Sharing features include Audio Copy, E-mail, Wi-Fi, FTP and SoundCloud
Compatible with Audiobus, Inter-App Audio and X-Sync
Universal compatibility, this app is designed for both iPhone and iPad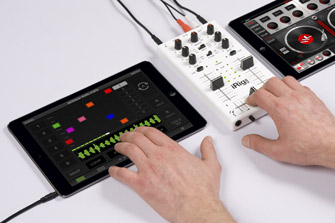 Remixing reinvented
With GrooveMaker you have access to a completely new way of making music. GrooveMaker 2 gives you a pre-arranged set of loops, called a song, that always sound good together. Thanks to our patented "groove generator" technology, you can mix the loops together in virtually limitless ways, all with just one touch. It's like having the power of a DJ without the need for any musical skills or expensive equipment. With Groovemaker, ANYONE can be a DJ. Everything in GrooveMaker is done in real-time, without ever having to stop the music. Your creations will sound like hit songs made in a music production studio!
You can add, remove and replace single or multiple loops as you listen, so there's no interruption of your creative flow. Remixing is a breeze with GrooveMaker 2, it's a totally new experience that puts you in control of the groove. It's your mix, and it all happens in real-time. Pick a drum groove. Layer on a bass riff. Add a bass drum beat. Spice it up with lead or effect loops. Browse millions of grooves with one touch. Change the tempo, loop and groove duration without stopping the music. Add effects and record their progression. Then save it all as a new remix for your own compositions, compilations or video soundtracks, and share it with the world.
Anyone, anywhere can use Groovemaker 2, you don't need previous musical knowledge to make great sounding grooves.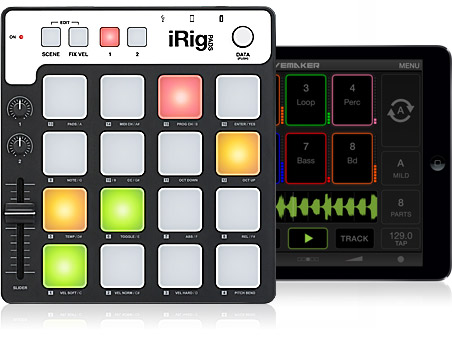 Take control
GrooveMaker 2 is fully operational using the device touchscreen, but the real fun is when you pair it with one of IK's hardware controllers. GrooveMaker 2 now supports plug and play connectivity with iRig Pads, IK's powerful new ultra-portable groove controller.
Just plug it in, and you'll be able to take advantage of its custom GrooveMaker 2-specific modes: Groove Mode and Launch Mode.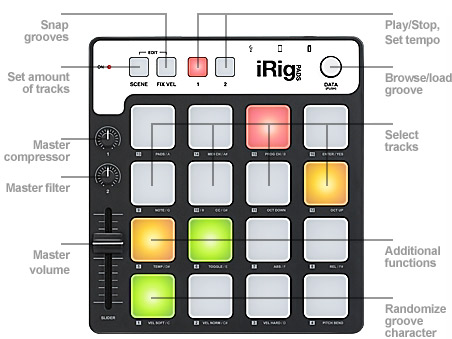 Using these you can control groove length, set track parameters, browse and cue loops, tweak effects, toggle Randomixes and more with the tactile responsiveness and intuitive interface of a velocity sensitive 16-pad controller.
Pair them together and you'll be able to take your grooves to go!
You can also use GrooveMaker 2 with the iRing controllers, a set of two "rings" you wear on your hands that feature dot patterns that GrooveMaker 2 recognizes. While wearing the iRing motion controllers, you will be able to tweak GrooveMaker 2 effects and add/remove parts by waving your hands in front of your device's camera — try moving the rings clockwise or counterclockwise to trigger GrooveMaker 2's randomization feature.
Making music and controlling real time effects for killer nonstop dance music and grooves is now as easy and simple as moving your hands!
GrooveMaker packs
There are a huge number of loops that you can remix in GrooveMaker. They come grouped in packs called "songs," with over 60 loops in each that are organized by category — such as bass drum, loop, bass line, pads, effects and percussion.
With our patented groove generation technology you can obtain millions of different groove combinations, based on 4 different A-D "Randomix" algorithms, which can produce Rhythmic, Mild, Instrumental or totally Random grooves on the 8 GrooveMaker tracks. All of this is done with just one touch.
The song packs available for in-app purchase comprise a huge range of musical styles including House, DubStep, Hip Hop, Techno, Trance, Electro, D'n'B, Reggae, Reggaeton, Rock and more.
We even offer artist's packs from Ace from Skunk Anansie, Chris Domingo and Cool & Dre, with more to be released. And if you own a previously released GrooveMaker 1.0 app, simply register it to have your previous songs available in GrooveMaker 2 for free.
Grooving by drawing
As soon as you select a song you enter into the new Matrix interface. Push the Randomix button and you will immediately see the building blocks of your groove appear on the grid and the music will begin playing. You can keep changing the groove by tapping on the Randomix button or you can literally "draw" new grooves directly on the grid. You can lock loops, solo and mute them, change volume and pan and freely associate loops to each of the 8 available tracks from the song pool of available loops. When you're satisfied with a groove, just take a snap to memorize it for further sequencing.
Control duration and tempo
Together with the new Matrix interface, you also have access to the traditional Pad view, where the 8 large pads allow for more control during live performance. Now you can change the duration of the selected loop from inside the Pads view by simply tapping and sliding on its waveform for truly personalized grooves and maximum experimental creativity.
With the new Groove length control, you can also change the duration of entire grooves from a half bar to any length within the grooves' 8-bar duration. And with the new high quality time-stretch you can change the tempo of your groove from 50% to 200% without changing its pitch, allowing you to synchronize it with other material and use GrooveMaker as a powerful creative tool in even the most sophisticated DJ setups. Tempo and duration information are also memorized when you take snaps of your grooves for further sequencing and composition.
DJ-effects powerhouse
In the new GrooveMaker 2, you can further enhance your grooves with the new Effects interface, which gives you 16 high quality DJ-oriented effects that include everything, from Filter to Delay, Stutter to Flanger, Crush to Noise, along with highly creative effects like Twist, Brake, Spin, and Tail that can only be found on the most professional DJ equipment. All the effects can be operated with a X-Y touch surface, where you can even record automation within the 8 bar groove duration, which provides ultra dynamic groove effects progressions.
And if all that's not enough, you also have a new Master section in GrooveMaker 2 where you can give the finishing touch to your groove with a Compressor, an EQ and a filter for a professional sound that can be cut straight to record.
Import and mix your own loops
One of the most popular requests within the original GrooveMaker was to import user material, and this has been fully implemented in GrooveMaker 2. You can record loops with your device and add them to your grooves. You will also be able to import audio directly from your iTunes library and other sources, cut it into loops and auto-sync them effortlessly with your groove. That way you will be able to extract samples directly from existing records and build tracks that are truly yours on top of the rhythmic inspiration that GrooveMaker 2 puts at your fingertips.
Build your mix and share it with the world
There are two ways to build a full-length track in the new GrooveMaker 2. The first way is to use the new Live Recorder to record everything you do in real time. You can also use the traditional Sequencer interface where you simply drag and drop the grooves that you have previously captured with the Snap function. This way you have the best of both worlds: Either an impromptu live recording of your performance, or a fine-tuned programmed composition. And when you're done you can share your work with the world using the included export functions, which include Audio Copy, E-mail, Wi-fi, FTP and SoundCloud.
Works well with others
To make it easy to include GrooveMaker 2 in your set-up, we have made it compatible with Audiobus and Inter-App Audio. Now you can take advantage of its powerful groove creation tools together with your other preferred apps for the ultimate loop-based music creation experience. The X-Sync feature detects BPM from external audio sources and automatically syncs the groove (when used with iRig MIX).
Apps