Reviews

Jesse Hollington's review of iRig HD 2
3 October 2016
"With iRig HD 2, IK Multimedia is now for the first time unlocking the complete AmpliTube application, providing full versions of AmpliTube 4 for Mac, PC, iPhone, and iPad, with all features and all of the basic gear...a nice bonus! Super clean and clear, distortion-free audio with no audible noise or crosstalk, thanks to the high-quality A/D converter and direct digital input via the Lightning connector, iPhone 7/7plus Ready...basically, with iRig HD 2 you can carry around everything you need for quality performing or studio sessions in your guitar case."

Bass Musician Mag's review of IK's new guitar/bass digital interface
3 October 2016
"For the longest time, the IK Multimedia iRig HD has been a staple for the mobile musician. Coupled with your phone, the iRig HD turned anyplace into the perfect practice area, or recording environment. Just released, the new iRig HD 2 continues the tradition by adding some features that make the interface ideal for the performance arena as well...And to make sure you get the most out of it, the software included is massive. The iRig HD 2 immediately becomes indispensable...and is easily going to become invaluable for not only the recording musician, but the performing one as well."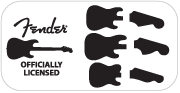 FENDER™ and all FENDER amplifiers,s
logos, and trade dress are the trademarkss
of FMIC and used herein under license.
All rights reserved.
Video