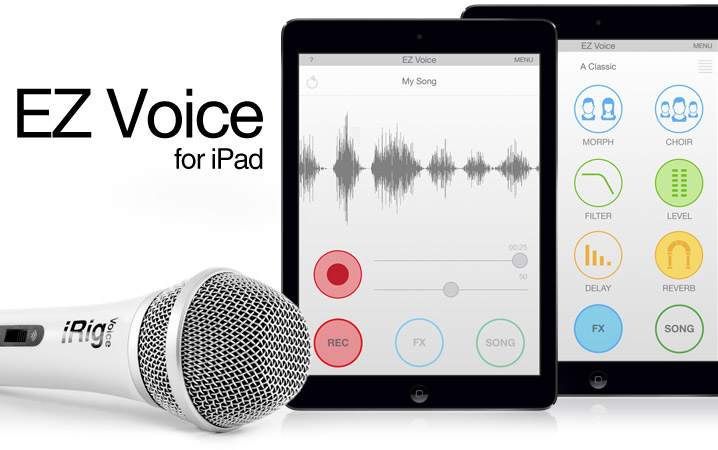 EZ Voice – Sing like a pro
Import music and sing along with EZ Voice for iPhone, iPad, iPod touch — the powerful fun and easy way to sound like a pro.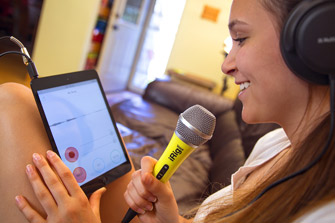 EZ Voice is the new companion app for iRig Voice and iRig MIC that makes singing along with recordings super easy and fun. EZ Voice is packed with powerful features that turn any mobile device into a fun, great sounding vocal and recording suite.
EZ Voice features a simple graphic interface that divides its powerful features into 3 main sections: REC, FX and SONG. The REC section is where you import songs, cancel the voice, sing along and record. The FX section is where you can apply all kinds of killer effects to the incoming vocals, and the SONG section is where you load, manage and share your songs and recordings.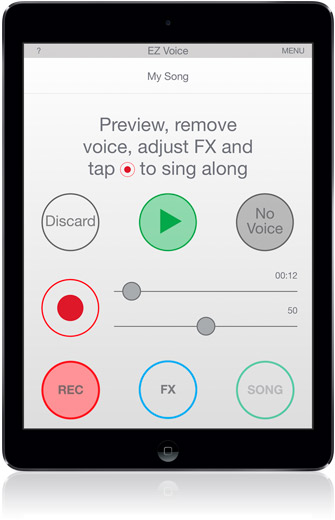 Import, Cancel, Audition, Record
EZ Voice is an elegantly simple and easy to use sing-along vocal performance app designed to provide great-sounding vocal performances. Just import any song from your device library into the app or via iTunes file sharing, remove the vocal track from the material by clicking the "No Voice" button, add studio quality effects and sing along in real time.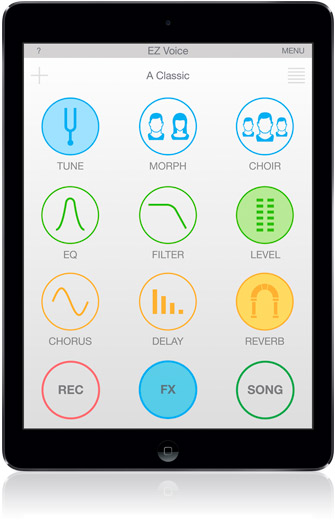 Harmonize, Morph, Pitch Fix
The power of EZ Voice lies in the ability to add killer studio-style effects to any vocal performance. The effects in EZ Voice are derived from our extensive collection of professional recording studio software and mobile apps.
EZ Voice offers 3 "vocal only" effects: Tune, Morph and Choir.
The Tune effect is a simple "pitch corrector" effect that lets you select the material's pitch and scale and gently adjust the incoming signal to align with the closest note in the chosen scale.
The Morph effect is a fun vocal "distortion" type effect that lets you change the sound —and even gender— of your voice.
The Choir effect adds up to 3 adjustable harmonies to your voice to give that huge professional multi-part sound.
Studio effects that anybody can use
In addition to the "vocal only" effects, EZ Voice serves up 6 additional essential vocal studio effects: Reverb, Delay, Chorus, EQ, Filter, Compression and Level control. Each of these effects are derrived from our award-winning desktop recording studio software packages like T-RackS, CSR and AmpliTube and are optimized to provide stunning results during vocal performances. Choose from 3 effects at a time yielding dozens of effect combinations for limitless creative expression — save your effects settings and combinations as presets for quick and easy recall.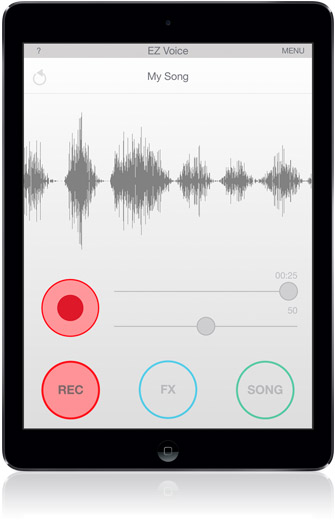 Record & Share
Once the vocal effects chain has been set, it's time to sing. The "Rec" section is where you'll do all the heavy lifting. To record your performance, simply tap the red recording button. You'll see a count-in before your song starts playing. Now sing into your iRig Voice mic and wow the world.
A waveform display shows the progress of the recording as well as elapsed recording time. The "SONGS" screen houses all of your completed recordings and lets you share your recordings via email, or SoundCloud upload. Recordings are shared in either .mp3 or .wav format.
Inter-app and AudioBus Compatible
EZ Voice is Inter-app and AudioBus compatible so it can be used as an effects processor in other Audio apps like GarageBand on Apple devices.
Plugging In
EZ Voice is optimized to compliment the iRig Voice line of microphones. iRig Voice is a full-featured handheld vocal microphone for iPhone, iPad, iPod touch, Android Smartphone and Tablets and is offered in 5 colors: white, red, yellow, blue and green.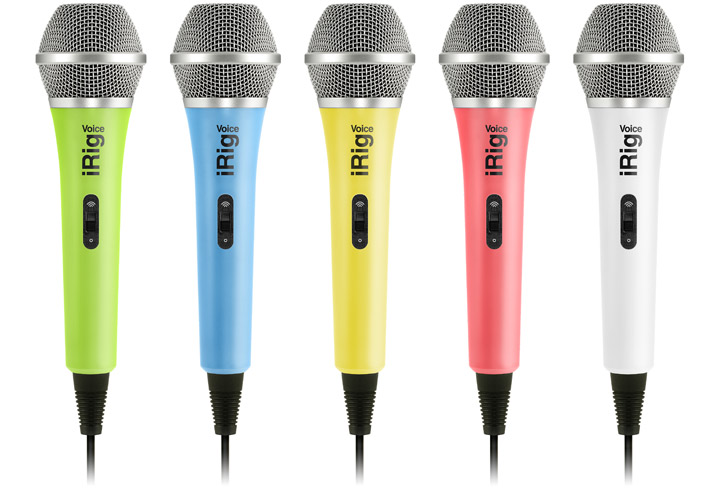 EZ Voice is compatible with all of IK Multimedia microphones and mobile interfaces including iRig Mic HD, iRig Mic, iRig Mic Cast, iRig PRE, as well as most other mobile microphone accessories.
Apps