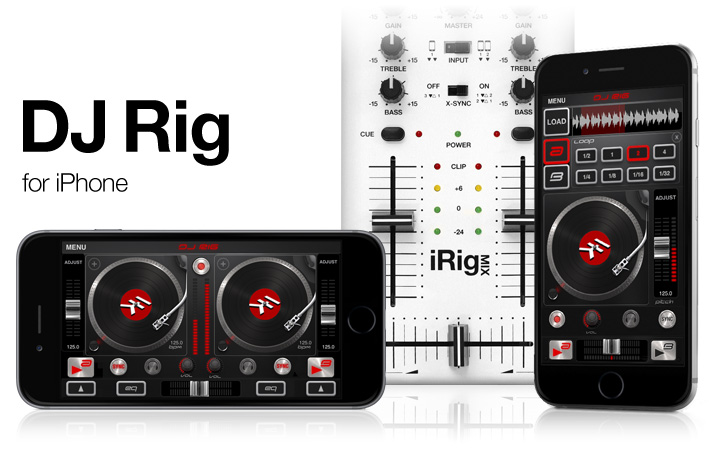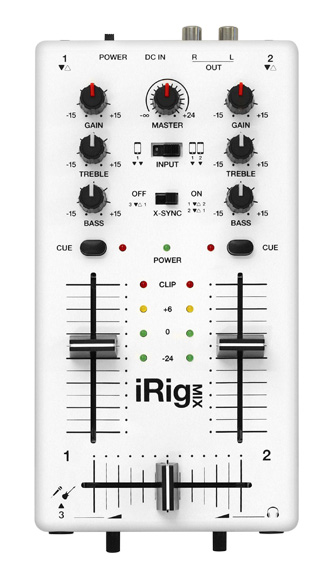 Let the iParty Begin
DJ Rig is a full-featured, double-deck DJ mixing app for iPhone. It provides instant song-playing from the device's music library, automatic tempo sync and beat match, sample-based pads and performance recording, plus an arsenal of high-quality DJ effects. When used with the iRig MIX audio mixer for iOS devices, DJ Rig provides the most portable professional setup for mobile DJs and musicians.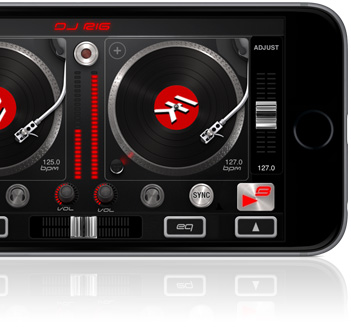 DJ Rig has many professional features not found in other DJ apps like its unique beat match, its selection of 12 high-quality DJ effects with XY control, built-in sampling pads, multiple cue points, crossfade curves and X-Sync. X-Sync (available when used with iRig MIX) enables anyone to automatically synchronize the app audio with any other external audio source like a second iOS device but also regular CD or MP3 players.
---
Professional DJ features
Double Deck
Landscape and portrait interfaces
Direct access to music library and playlists with instant play
Deck controls: Volume, Pitch, 3-Band Kill EQ, Headphones and Crossfader
Tempo controls for fine BPM adjustments
3 crossfader curves for customizing fades
Drag and zoom of waveform display
Auto-level detect and adjust for the perfect balance between decks
Crossfade filter allows fading between decks with bass or high filters for smooth and perfect transitions
Customizable deck interface
(available for in-app purchase)
Multiple output configurations for virtually any audio setup
Supports all major digital audio formats including MP3, AAC, WAV, AIFF
Live recorder allows you to record full mixing gigs
Mix & Scratch
Tempo Sync
Beat Match – for the first time, a DJ iOS app that can align songs' beats
Fast BPM detection, beat analysis and beat map saving
4 visual cue points per song
(1 built-in plus 3 available as in app purchase)
Automatic looping, create loops with beat-accurate tempo divisions
Accurate scratching engine modeled on real deck behavior with CloneDeck™ technology for scratching with cut-to-the-beat
X-Sync mode detects the BPM from external audio sources in real-time and automatically syncs the audio/tempo of internal decks to external devices (when used with iRig MIX)
DJ Effects
Effects deck with 12 effects: Delay, Flanger, Crush, Filter High Pass, Filter Low Pass, Filter Band Pass, Compressor, Wah, Phaser, Fuzz, Reverb, Stutter (plus 6 more effects available for in-app purchase)
XY touch interface
All effects are BPM-synched
Multiple controls
Extra filter available
Sampler Machine
On-the-fly sampler machine
9 pads matrix with assignable pads
15 sound banks available
(8 built-in plus 7 available for in-app purchase)
Live sampling functionality
Pitch control
What's new
iOS 9 compatibility
Individual effects available for purchase
---
How it works
Get the iParty Going...
DJ Rig isn't just another mixing app. Instead, it's an extremely intuitive, flexible groove master program with intelligent effects and professional features. It's dual-deck format is as traditional as it gets, but beyond that, you'll find a world of creative tools, from sync tools to creative effects, that will take your mixes to a completely new level of hip. Dive in and you'll see what we're talking about…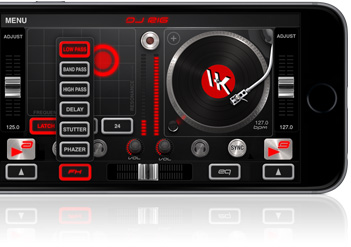 Effect Deck...
Unlimited Sonic Possibilities
DJ Rig also features a robust, real-time effects processing section that allows you to apply various effects to your source material. And with the XY touch interface, you have full creative control of your effects with the coolest, perfect sound for your mix. All effects are synched to the tempo, and you can choose from spatial effects like reverb, delay and flanger, various pass-through filter effects, distortion, resonance effects and our st-st-st-stutter effect.
Crossfade Like a Pro...
DJ Rig allows you to customize your crossfader curves much like the crossfading features found of high-end DJ equipment. Now take full control of your transitions by fine-tuning the amount of each signal present at any point during the fade to mix in a creative way.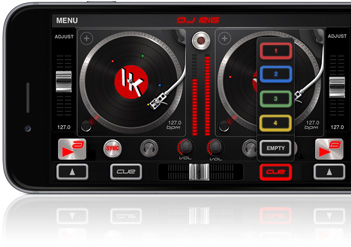 See what you're hearing?
With 4 adjustable visual cue points per song, you'll quickly find the spots you need to cue up the next song. Add them with a simple touch, then recall in an instant to jump to the exact location you want. Simple as that.
Accu-Scratch with CloneDeck™
Want to add a little grit and scratch to your mix? You'll be amazed by the accuracy and realistic sound of our Accu-Scratch modeling technology. CloneDeck™ provides the exact behavior you expect from a real DJ turntable, only in a convenient digital format.
Record your mix
You can record your entire mix performances live with the built-in recorder and then export it to your computer.
X-Sync
Sync ANY external audio source
DJ Rig's exclusive X-Sync feature enables you to sync music from ANY source — not just music on your iOS device. When used with the iRig MIX portable iOS DJ mixer, you can plug in and cue ANY source audio, and X-Sync will automatically match the tempo and make your transitions seamless. Now you can use ANY of your audio sources in your mix like a second iOS device, cd players, other MP3 players, whatever. There's no additional programming necessary… it just works.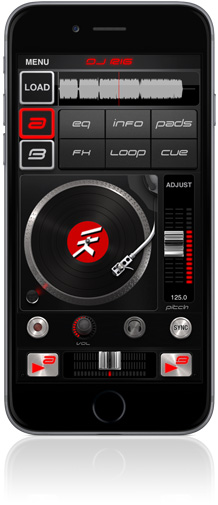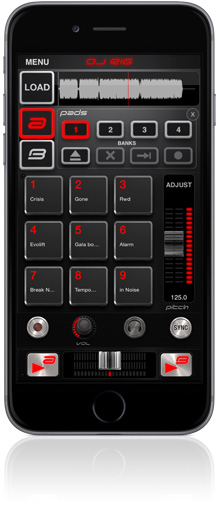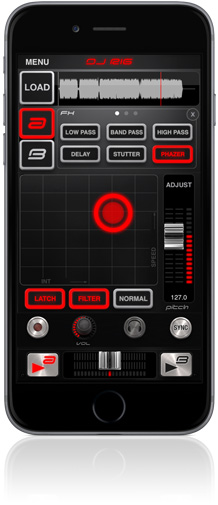 Apps