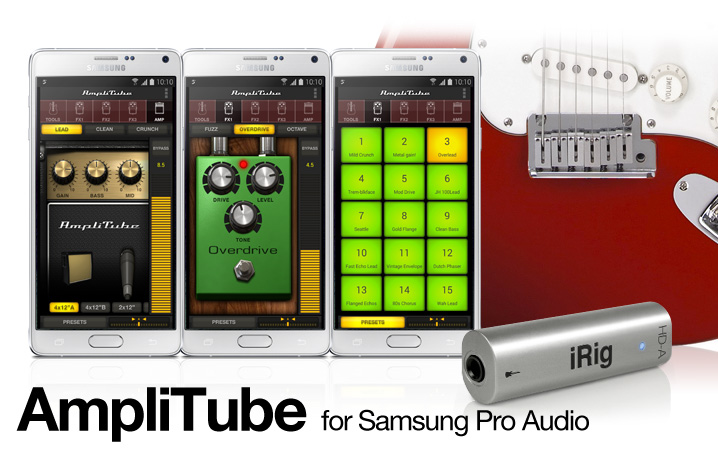 Your guitar tone on your smartphone
A complete professional guitar & bass multi-effects processor for Android on Samsung Professional Audio devices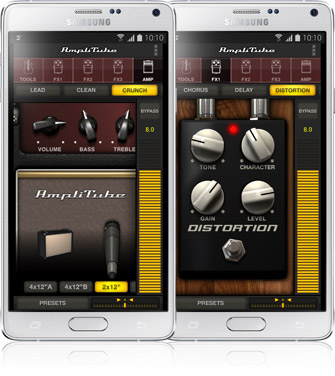 AmpliTube turns your Android device that supports Samsung Professional Audio technology — like the Samsung Galaxy S6, Galaxy S6 Edge, Galaxy Note 4, Galaxy Note Edge, Galaxy S5, Galaxy Note 3, Galaxy Tab S2 and other devices — into the ultimate mobile guitar and bass multi-effects processor, offering up digital versions of some of the most coveted amplifiers and stompbox effects of all time.
Use the iRig HD-A, iRig 2 or iRig Stomp audio interface adapters to connect your guitar, bass or keyboard to your mobile device and you'll be ready to rock! You can also use the iRig Mic HD-A or iRig Mic to process vocals and acoustic instruments with this powerful mobile suite.
AmpliTube gives you incredibly realistic amp tones and effects in a mobile app from the leaders in analog gear modeling software for professional recording studios.
Your new favorite guitar rig
At its most basic level, AmpliTube is an incredibly fun and intuitive guitar and bass rig that lets you jam anywhere with world class tone.
Just like a traditional live setup, you get three daisy-chained stompbox effects running into an amp-head which you can pair with a variety of cabinets and mics.
The gear
AmpliTube comes with 11 built-in stompbox effects (delay, fuzz, overdrive, wah, envelope filter, chorus, flanger, phazer, octave, noise filter + distortion once registered), 5 amps (clean, crunch, lead, metal, bass) with full controls, 5 speaker cabinets and 2 microphones (dynamic and condenser).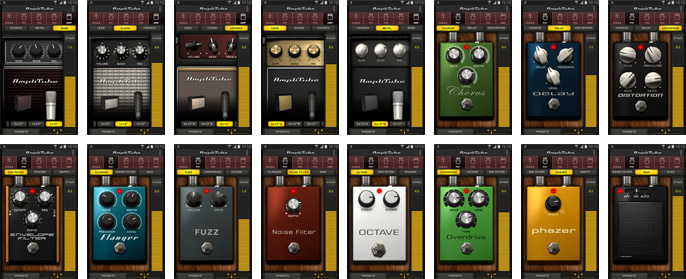 AmpliTube comes with everything you need to cover virtually every style of music. You can spend hours and hours creating guitar and bass tones with all the killer effects and amps included.
For a complete list of available gear, check here.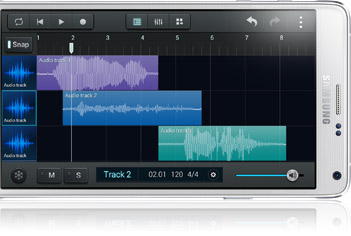 Standalone or plug-in
The new Samsung Professional Audio compatible devices come with Samsung Soundcamp, a free and full-fledged music studio app that lets musicians record and compose full songs entirely within the device.
You can use the AmpliTube app as a standalone application but also as a plug-in inside the new Soundcamp studio for full recording and play-along uses.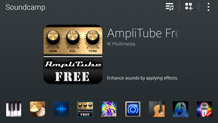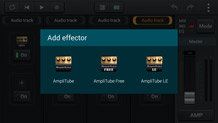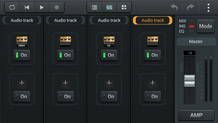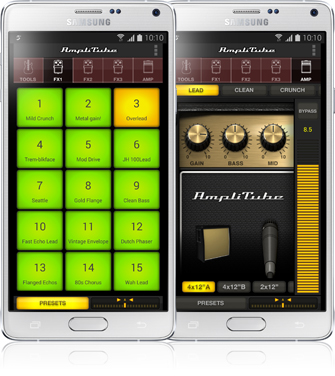 Preset mania
AmpliTube also includes a preset system for managing all of your sounds. Presets are sound settings created with various combinations of gear that are saved for quick recall. You can create, save and quickly recall up to 15 different presets.
Features
Real time guitar and bass mobile multi-effects app
Full rig with 3 simultaneous stomp boxes, an amp with effects, a cabinet and a mic
11 stomp boxes, 5 amps, 5 cabinets and 2 mics
Preset system for managing presets
Chromatic tuner included
Digital audio in/out
Low latency for real-time playing on Android devices that run Samsung Professional Audio
Works as standalone app or as a plug-in inside Samsung Soundcamp studio
FREE and LE versions also available
---
Plug and play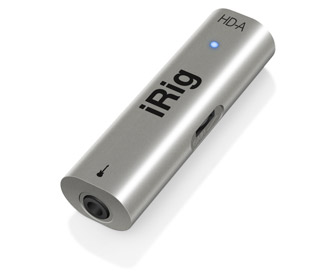 Now you can connect your guitar or bass to your Samsung device with the new iRig HD-A. It's the first digital guitar interface for Android that allows plug-and-play connectivity and the highest possible sound quality. Featuring a high-definition 24-bit/48kHz A/D converter, it offers a direct high-impedance input for guitars or other instruments and a direct connection to the device via the included OTG cable (an additional USB cable is also available for use with PC).
The input signal can be regulated using the onboard gain potentiometer, while a multicolor LED displays the optimal signal level. The processed sound can be monitored from the regular mini jack output of the device through headphones or speakers.
Along with the iRig HD-A, you can also choose from IK's range of analog interfaces, like the iRig 2 guitar interface adapter or the iRig Stomp pedal interface. Both use the mini jack for the input/output connection with the device.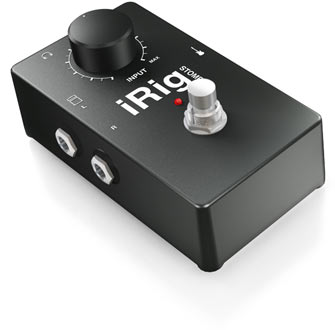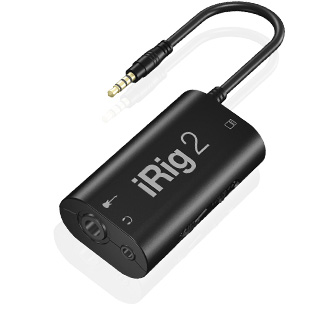 Apps