"Music sounds excellent"
16 February 2018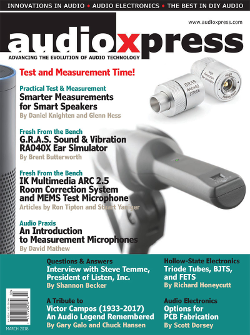 AudioXpress resident measurement gurus, Ron Tipton and Stuart Yaniger, have set their analysis lab to work on putting ARC 2.5 and the new MEMS measurement mic through their paces. They were so impressed they gave the ARC measurement mic pride of place on their front cover!
Here are some of their key comments:
"The biggest improvement is the inclusion of a MEMS microphone with a flatter frequency response as compared to the 2.0 mic."
"Certainly, music sounds excellent through the ARC correction."
"In the past few years, MEMS technology has improved to the point where it's a viable option for test and measurement applications."
"IK Multimedia MEMS mic has an effective diaphragm diameter of roughly a millimeter, so the usual treble rolloff is not evident - in that sense, this is the best I've ever seen in a mic measurement."
"The last generation microphone for the ARC 2.0 room correction software showed about 0.5% THD at 78 dB SPL. [With 0.04% distortion] the new MEMS mic is a significant improvement."
"The ARC system is very easy to use and quickly gives good correction. Measuring just the minimum seven locations around a single chair worked fine for me. I think it's a good buy at $199.99 and a real bargain if you have version 2.0."
The final verdict was:

"Overall, this MEMS microphone is a significant upgrade compared to the mic previously provided with the ARC system, and its virtues (ruggedness and stability) are considerable. The pairing with the ARC 2.5 room correction software made a significant improvement in the sound of my recording monitors."
Visit AudioXpress
Learn more about ARC 2.5 and the MEMS microphone