"A superbly flexible recording solution"
13 September 2017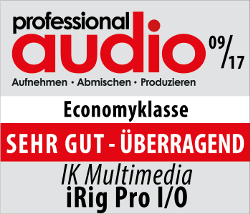 Professional Audio's Frederieke Ressel has taken an in-depth look at iRig Pro I/O, IK's new ultra-compact professional audio/MIDI interface and is very impressed by the results.
Read some of her key comments here.
"The direct montoring works without any noticeable latency."
"iRig Pro I/O's sound quality speaks for itself: The typical SM58 sound is reproduced pristinely. Furthermore, iRig Pro I/O stands out from the crowd thanks to its low signal noise. There's no noticeable sound colouration even when recording instruments."
"For its price and size, iRig Pro I/O provides absolutely stunningly good sound and significant improvements compared to its predecessor."
"iRig Pro I/O is a very fitting addition to the iRig family. Thanks to the higher resolution, MIDI ports, the dedicated headphone output and its hefty software bundle, this handy interface offers you, for an equally handy price, an excellent recording solution both on the road and in the studio."
Verdict
"iRig Pro I/O is a very well-equipped interface in an extremely compact design and works both on iOS and Android plus on Mac and PC out of the box, offering a superbly flexible recording solution. An extremely generous software bundle adds even more value for money."

Pros
- Outstanding sound
- Enables recordings in 96 kHz/24bit
- Phantom power
- Very decent amp power
- Extensive software bundle
- Mobile format
- Non-slip case thanks to rubberized surface
- Adjustable headphone output
- MIDI IN and OUT
Cons
- NONE
Award: Very Good - OUTSTANDING
Read some quotes from the original review in German.
"Das Direkt-Monitoring funktionierte dabei ohne hörbare Latenzen."
"Klanglich kann das iRig Pro I/O sich hören lassen: Den typischen SM58-Sound gibt es unverfälscht wieder und das iRig Pro I/O gefällt außerdem durch seine Rauscharmut. Auch bei den Instrumentenaufnahmen ist keine Klangverfärbung feststellbar."
"In seiner Preis- und Größe-Klasse wartet das iRig Pro I/O mit einem beeindruckend guten Klang auf und hat sich hier gegenüber dem Vorgänger noch ordentlich gesteigert."

"Das iRig Pro I/O ist ein gelungener Neuzugang der iRig-Familie. Dank verbesserter Auflösung, MIDI-Schnittstelle, einem dedizierten Kopfhörereingang und einem saftigen Software-Paket bietet das handliche Interface für einen ebenso handlichen Preis eine gute Lösung für mobiles und stationäres Recording."
"Das iRig Pro I/O ist ein gut ausgestattetes Interface im Miniaturformat, das sowohl für iOS, Android als auch Mac und PC out of the Box eine superflexible Aufnahmemöglichkeit darstellt. Ein überaus üppiges Software-Bundle wertet es zusätzlich auf."

Plus
- Überzeugender Klang
- Aufnahmen in 96 kHz/24 Bit möglich
- Phantomspeisung
- ordentliche Verstärkerleistung
- umfangreiches Softwarepaket
- Mobiltaugliches Format
- rutschsicher dank gummierter Oberfläche
- regelbarer Kopfhörerausgang
- MIDI In- und Output
Minus
- NICHTS
Bewertung: Sehr gut - ÜBERRAGEND
Visit Professional Audio here
Learn more about iRig Pro I/O here