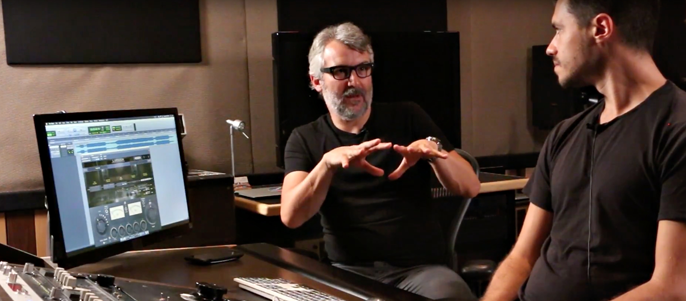 Studio tour & demo of Lurssen Mastering Console software
14 August 2017
Watch this video interview as Warren Huart from Produce Like A Pro visits Gavin Lurssen and Reuben Cohen of Lurssen Mastering to tour their studio and discuss details about their approach to mastering, workflow and the gear they use. They also demo IK Multimedia's Lurssen Mastering Console plug-in showing how the preset "styles" can be applied to a variety of sources like a progressive rock song and an EDM track along with how to adjust them for great results.
"I have to admit I was very impressed by the performance of this plug-in. It preserves the integrity of the music while making it louder, fuller and more impactful." – Warren Huart
"This plugin is inspired based on how we work day in day out using the analogue console... It's a philosophy that inspires the user to utilize our workflow instead of being lost in all of these different processes and trying to make sense of it all. We want to free you up from some of the decision-making process, while still keeping high musical standards up." - Gavin Lurssen
Lurssen Mastering Console features a mastering processing chain that's modeled to reflect the analog processing and settings used by the team at Lurssen Mastering. There are dynamic controls for select processors, an Input Drive knob, a five band EQ and a "Push" knob. The master processing chain's parameters can be changed utilizing 25 different "style" presets that reflect the secret techniques, workflow and world-renowned know-how of the Lurssen Mastering team and are perfect starting points for genres like rock, country, punk, hip-hop, EDM and more.