Sneak peek at T-RackS 5 and more
24 October 2017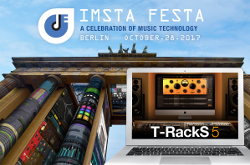 We are delighted to invite you to visit us at the first-ever IMSTA FESTA in Berlin on Saturday the 28 October.

IMSTA FESTA Berlin is the ultimate celebration of music technology for music-makers alike. From Miami to Los Angeles, Chicago to New York; IMSTA is hosting the first IMSTA FESTA in Berlin, a leading music technology city. Don't miss this day packed with Exhibits, Panels, Master Classes, Song Reviews, Demonstrations and more. Hosting musicians, songwriters, music producers, audio engineers, music students and educators in an environment where they can all network and interact with the manufacturers and product specialists face-to-face.
This FREE admission, one-day event begins at 1:00PM at
SAE Institute
Cuvrystraße 4
Berlin

Register here to attend

We'll have IK specialists demonstrating the latest IK products like iLoud Micro Monitor, ARC 2.5, iRig Pro I/O, Syntronik plus an exclusive look into iRig Keys I/O and T-RackS 5.
We look forward to seeing you there!
For further information on IMSTA FESTA Berlin, please click here