IK's compact speaker monitors travel with Green Day's keyboard player
16 October 2017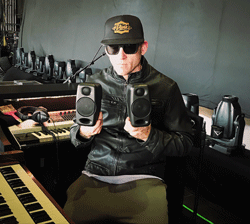 Green Day's Jason Freese on stage with iLoud Micro Monitor
"I LOVE THEM!! Completely taken away with the clarity, volume and bass response of such small speakers!"
"The iLoud Micro Monitors serve so many different functions for my daily life. I use them in my studio for small monitor references as well as in my hotel rooms on the road to write, record, mix or practice with. It is so nice to finally have a small pair of monitors that I can have with me by my side at all times which I can rely on!"
Jason Freese is an American musician, songwriter, record producer, and recording engineer. As a professional studio musician, he has performed on over 50 albums by more than 35 different artists, including multiple albums by Green Day, Goo Goo Dolls, Jewel, NOFX, Dr. Dre and Avenged Sevenfold.
Jason has performed as a touring member of Green Day on their American Idiot World Tour, their 21st Century Breakdown World Tour, their 99 Revolutions Tour and their Revolution Radio Tour, and appeared on their live albums Bullet in a Bible and Awesome as F**k. His performing credits include keyboards and saxophone.
iLoud Micro Monitor is two extremely portable, high-performance bi-amped speakers that delivers a combined 50W RMS of power for solid bass, plenty of headroom and a stunningly defined stereo image. Learn more about iLoud Micro Monitor, the mobile and reliable studio monitor reference system from IK Multimedia.