Rodrigo y Gabriela perform with iRig Acoustic Stage and iRig Pro Duo
5 October 2017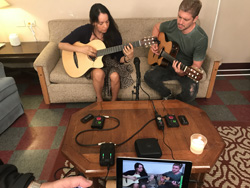 Rodrigo y Gabriela
Watch Rodrigo y Gabriela in a short acoustic guitar performance recorded exclusively for IK Multimedia incorporating iRig Acoustic Stage and iRig Pro Duo which capture their performance and the true tone of their instruments.

iRig Acoustic stage is the versatile, plug and play solution from IK that accurately reproduces the full sound of acoustic guitars and other instruments with impeccable quality live on stage or in studio maintaining the nuances of the guitars intact, the tone balanced, natural and clear.

iRig Pro Duo, delivers true mobility in grand fashion. It packs a ton of useful recording features into an extremely compact enclosure that you can take with you anywhere. iRig Pro Duo delivers high-quality 24-bit audio on the go or in the studio with plug-and-play simplicity. It features 2 channels with XLR/TRS combo audio jacks and phantom power that can accommodate everything from high-end condenser microphones to guitars, basses, keyboards and more. Its crystal-clear ultra-low noise high-headroom preamps ensure that you get professional grade sound.

Rodrigo y Gabriela the famous talented classical guitar duo with their very own virtuoso style, that incorporates elements of Latin jazz, funk, folk and metal and who have traveled all over the world with their electrifying acoustic guitar performances took time during their busy and hectic tour schedule to deliver a fantastic musical arrangement captured by the best on the go companions by IK Multimedia, iRig Acoustic Stage and iRig Pro Duo.
Rodrigo y Gabriela, recently finished their European tour and are currently supporting John Mayer on his "The Search for Everything World tour" in Brazil and Argentina. The duo that rose to fame in 1999 in Ireland and was nominated in 2010 for a NAACP Image Award for an Outstanding World Music Album has since released six albums - Foc, re-Foc, Live in Manchester and Dublin, the self-titled album Rodrigo y Gabriela, Live in Japan and 11:11.