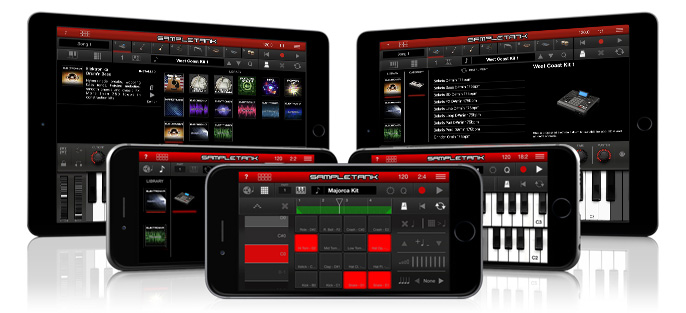 The Elektronika Drum'n'Bass, Hardcore & Techno
22 November 2017
We're pleased to announce new instrument collections now available in the newest release of SampleTank 2 for iOS — Elektronika Drum'n'Bass, Hardcore and Techno. Each new collection for iOS is developed from the SampleTank 3 for Mac/PC instrument collections and contains multiple instruments and patterns for the utmost in mobile music creation.
Elektronika Drum'n'Bass - $9.99/€10.99
Want to make tracks that make 'em rewind inna rudeboy style? Then you want the Drum'n'Bass sound library. With it you'll be able to dive headfirst into hyperkinetic breakbeats, wobbling bass tones, twisted melodies and more. With the Drum'n'Bass expansion you'll be able to create tracks that make subwoofers rumble and dancefloors explode.

Elektronika Hardcore - $9.99/€10.99
You know the score, and you want to make some serious cuts that'll rip the lid off your next warehouse rave. Pick up the Hardcore sound library, its a violent collection of apocalyptic rhythms, gut-punching basslines, totally distorted construction kits and more. So go forth and show the world why hardcore will never die.

Elektronika Techno - $9.99/€10.99
Do abandoned power stations and warehouses get your blood pumping? If so, turn to the Techno sound library. It will give you the industrial-strength basslines and assembly line rhythms you need to create your next big bangin' loop. With the Techno sound library, the terrifying, fist-pumping tones of a post-apocalyptic future are at your command.
SampleTank 2 for iOS is a sample-based virtual instrument that gives you access to thousands of sounds from multiple categories of acoustic, electric and electronic instruments — all on your iPad or iPhone. Load up to 8 simultaneous parts from a selection of 140 included instruments in 16 categories like piano, drums, bass, guitar, strings, keyboards, synths, organs and more. These instruments can be played in a live setting or when composing with the device interface, an external keyboard or pads controller. The new SampleTank 2 sound engine is the same as its Mac/PC software counterpart, giving you astonishing realism and audio quality.
With SampleTank 2 for iOS you now have the power of desktop virtual instruments — without compromise —with a massive number of over 2,000 high-quality instruments and the most advanced sound and groove workstation for the mobile platform.
SampleTank 2 for iOS is available from the App Store for $19.99. Additional instrument collections are available for in-app purchase starting from just $4.99.