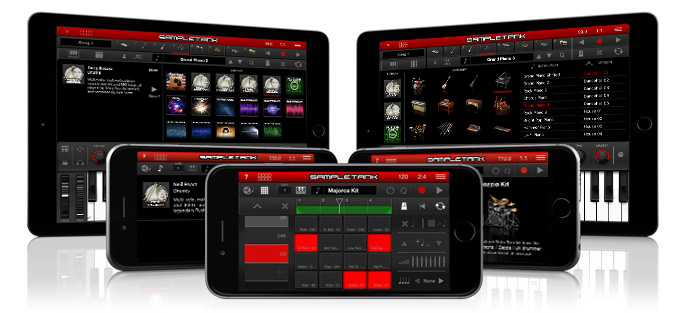 Get the new Neil Peart and Terry Bozzio Drums
14 December 2017
We're pleased to announce new instrument collections now available in the newest release of SampleTank 2 for iOS — Neil Peart and Terry Bozzio. Each new collection for iOS is developed from the SampleTank 3 for Mac/PC instrument collections and contains multiple instruments and patterns for the utmost in mobile music creation.
Neil Peart Drums - $9.99/€10.99
Get the sounds and grooves of the legendary Rush drummer into your own productions. Neil Peart Drums is perfect for rock, metal, jazz fusion, pop and nearly every kind of music where you need a clear, expressive punchy drum track that is well-articulated at every velocity.

Terry Bozzio Drums - $9.99/€10.99
Spice up your drum sounds and grooves with kit samples and loops from the highly-inventive Missing Persons, UK, Jeff Beck and Frank Zappa drummer, Terry Bozzio. He is known for his massive drum kits and uniquely melodic playing style. With Terry Bozzio Drums, we've gone to great lengths to ensure you feel like you're sitting in his drummer's throne.
SampleTank 2 for iOS is a sample-based virtual instrument that gives you access to thousands of sounds from multiple categories of acoustic, electric and electronic instruments — all on your iPad or iPhone. Load up to 8 simultaneous parts from a selection of 140 included instruments in 16 categories like piano, drums, bass, guitar, strings, keyboards, synths, organs and more. These instruments can be played in a live setting or when composing with the device interface, an external keyboard or pads controller. The new SampleTank 2 sound engine is the same as its Mac/PC software counterpart, giving you astonishing realism and audio quality.
With SampleTank 2 for iOS you now have the power of desktop virtual instruments — without compromise —with a massive number of over 2,000 high-quality instruments and the most advanced sound and groove workstation for the mobile platform.
SampleTank 2 for iOS is available from the App Store for $19.99. Additional instrument collections are available for in-app purchase starting from just $4.99.