Take your iPad on stage with IK's new mic stand adapter
21 December 2010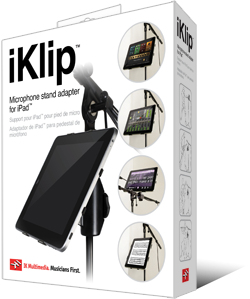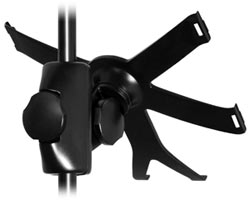 iKlip, the universal microphone stand adapter for iPad, is now shipping from the IK Online Store and IK Retailers worldwide. The iKlip makes it easy to support and operate music and presentation apps on virtually any microphone stand. Now you can take your favorite iPad music apps in any live setting — on stage, in the studio, at school or in the boardroom.

iKlip Features:
Sturdy thermoplastic construction with six secure touch points holds the iPad without scratching or marring it
Universal stand clip securely attaches to virtually any microphone stand
Multi-angle adjustment allows precise positioning for optimal stage or studio viewing
Quick-snap clips provide fast, secure iPad insertion
iKlip installs on mic stand in seconds with the twist of a knob
All iPad controls, buttons and connectors are accessible
Provides both landscape and portrait orientation of the iPad
Can be mounted on the vertical part of a mic stand, or on a horizontal boom for limitless positioning
Designed and manufactured in Italy
Watch and see how easy it is to use an iKlip on a standard mic stand or boom stand.

Compatible Music Apps
iKlip is the perfect companion for our own AmpliTube for iPad and GrooveMaker apps and of course, ideally suited for performing live with the iRig. And there's an app for everything. In music alone there are hundreds of apps to choose from. This is why we bring you IK's iKlip App of the Week. Every week IK will search the iPad Music App Store for score playbacks, tablature, karaoke, recording, DJ and other music apps and pick the app that you can jam with at home, in school, in the studio or on stage with iKlip.

This week's iKlip App of the Week: ReBirth for the iPad
ReBirth emulates dance music's three backbone devices: The Roland TB-303 Bass synth and the Roland TR-808 and 909 drum machines. Combine these with FX units, fully featured pattern sequencers and a gorgeous-looking interface and you're ready to make killer tracks on your iPad.

Pricing and availability

The iKlip retails for only $39.99/€29.99 MSRP (exc. Taxes) and is now available from the IK online store, as well as from select IK retailers and distributors worldwide.