The easiest way to make quality recordings on your iOS device
20 April 2011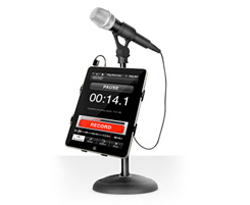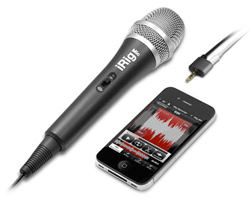 IK is proud to release iRig Recorder, a powerful and flexible audio recording app for your iOS device that is convenient and easy to use.

iRig Recorder is the perfect companion to iRig Mic. Take iRig Mic and iRig Recorder anywhere to capture podcasts, interviews, concerts… Any sound out in the field or right there at home. Then use iRig Recorder's intuitive editing tools to cut, crop or loop your audio and its powerful effects processors to optimize tone for speech or music, clean up background noise, brighten your voice for clarity and presence, smooth your voice in harsh or overly bright recordings or change the speed of your tracks without affecting their pitch.

Effect processors are so easy to use that anyone – even without specific music or audio knowledge – can quickly produce quality audio material in seconds with iRig Recorder.

iRig Recorder Processors:
Optimize Level

: automatically adjusts for optimal volume

Optimize Tone

: automatically adjusts for optimal equalization

Cleanup

: automatically cleans up the background noise in recordings

Brighten Voice

: automatically increases clarity of speech and vocals

Smooth Voice

: automatically smooths harsh or overly bright vocals

Speed up

: decreases the duration of the recording without altering its pitch

Slow down

: increases the duration the speed of the recording without altering its pitch

Change Pitch

: raises or lowers the pitch of the recording without changing duration
iRig Recorder organizes your recordings by date and time and also tags them with a geographic location for easy and reliable file management of your recordings. Export your files via E-mail, Wi-Fi, FTP, SoundCloud or iTunes File Sharing in a variety of sizes and formats (including CD-Quality uncompressed audio- 16-bit 44.1 kHz).

Price and availability:

iRig Recorder is now available from the iTunes App Store for $4.99 / €3.99.

A FREE, expandable version of iRig Recorder is also available that allows the user to makes à la carte purchases inside the app: Editing $3.99/€2.99, Processing $3.99/€2.99 and Exporting Features $2.99/€2.39.

Check out iRig Recorder info, images and audio demo online.