New update includes VocaLive Effects as in-app purchase, new preset management and more
9 May 2011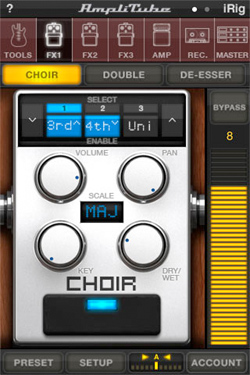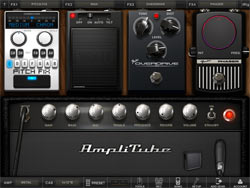 Newly released AmpliTube 2.2, an update of AmpliTube for iPhone / iPod Touch / iPad, is now available to download in the iTunes App Store. The mobile guitar rig and recording studio for iOS devices now includes VocaLive app as an in-app purchase just like the popular gear models from AmpliTube Fender. With the new add-ons, AmpliTube for iPhone and iPad keeps evolving as a full-fledged mobile processing and recording studio for all music creation, composition and production needs.

What's New:
New Vocal Effects

Choir

(a 3-part harmonizer)

Morph

(a pitch and formant shifter)

Pitch Fix

(an automatic tuner for correction or production effects)

Double

(a voice doubler)

De-Esser

Vocal Canceller

feature - removes vocals and guitar solos from an existing track

Newly enhanced preset system

for managing all of your sounds
Other AmpliTube 2.2 Features:
Real time guitar and bass mobile multiFX + recording app
Full rig with 3 simultaneous stompboxes + amp with effects + cabinet + mic (4 simultaneous models in the iPad version)
11 Stomps, 5 Amps, 5 Cabinets, 2 Mics
Along with the VocaLive Effects xpandable with:

5 stomps effects (compressor, reverb, parametric EQ, graphic EQ and limiter) suitable for other instruments and vocals available via in-app purchase
5 official Fender™ Amps and 5 Stomp models from AmpliTube Fender™ available via in-app purchase

Single track recorder with re-amping expandable to full 8 track studio with master effects section via in-app purchase
Import and play songs to use as backing tracks directly from your iPod library or computer
Slow down or speed up the tempo of imported songs without affecting pitch (-50% to +200%)
Tuner and metronome
Low-latency for real time playing
FREE and LE versions also available
The new iRig Mic handheld quality condenser microphone accessory for iPhone and iPad is the best way to get vocals and acoustic instrument recordings inside AmpliTube where you can take advantage of the new vocal effects. Together with the iRig electric guitar and bass interface adapter, they are the most complete set of mobile recording tools that you can always have with you.

With the new add-ons and its range of iRig accessories, AmpliTube is the most advanced real-time mobile processing and recording studio available for iOS devices today. Play, practice and record anywhere and anytime.

Pricing and Availability:

AmpliTube 2.2 is now available in the iTunes App Store for $19.99/€15.99. FREE and LE ($2.99/€2.39) versions of AmpliTube 2.2 are also available with a limited set of gear models included. Existing users can update their app for free via iTunes or their mobile device.

The new vocal effects from VocaLive are now available for in-app purchase at $4.99/€3.99 each or together as a bundle for only $9.99/€7.99. Other add-on gear models from AmpliTube or AmpliTube Fender™ start at $2.99/€2.39.