Easy MIDI recording for iPhone/iPod touch/iPad
5 May 2011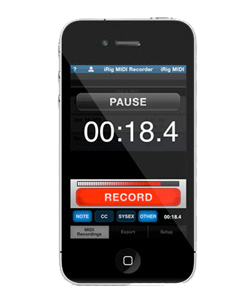 iRig MIDI Recorder is a free* iOS app and is the perfect companion to iRig MIDI, the compact MIDI interface for iOS devices. One-touch recordings can be made quickly and easily by just tapping the prominent record button. Recordings are organized by date and they can be exported via Wi-Fi, E-mail and iTunes File Sharing in Standard MIDI file format.

Features:
Convenient, easy-to-use mobile MIDI recording and playback application. Just launch the app and press RECORD
Perfect companion to iRig MIDI
Integrated MIDI monitor with independent indications for Notes, Control Changes, SysEx and other MIDI message types
Allows for filtering MIDI Messages types that doesn't need to be recorded or played
Automatically organize your MIDI recordings by creation date
Automatically handle iRig MIDI Firmware version check and updates
MIDI Soft Thru function to send to the MIDI OUT port what is being received on the MIDI IN port
Input OMNI: can record on 16 MIDI channels simultaneously or can be limited to Channel 1 only
Specs & Compatibility:
This free app requires the iRig MIDI interface accessory from IK Multimedia
Convenient, easy-to-use mobile MIDI recording app
One-touch recording
Organizes your MIDI recordings by creation date
Transfer standard MIDI Files (SMF) via E-mail, Wi-Fi or iTunes File Sharing
Filter each individual MIDI data category (Notes, Control changes, SysEx, Other) from recording or playback
Compatible with iPhone 4, iPhone 3GS, iPod touch 4th and 3d generation, iPad 2 and iPad
Compatible with iOS 4.3 and newer
* All IK mobile apps will be available for download from the App Store.