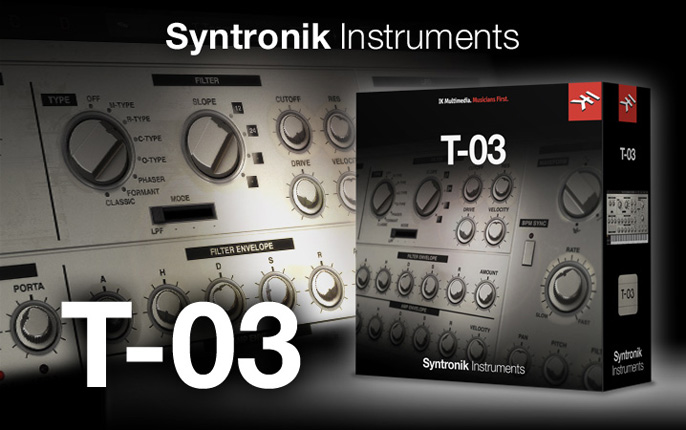 Two new "super instruments" push acclaimed DRIFT™ algorithm to its limits
28 February 2018
Registered users of the Syntronik T-03 synth can download this free update from their User Area and enjoy two all-new "super instruments" that push our acclaimed DRIFT™ algorithm to its limits.
The T-03 is based on the Roland® TB-303 bass line, embraced by electronic dance music artists and DJs for its quirky sound and workflow.  So much that it became a staple of what would become the EDM movement.
In honor of IK's Bass Month, we have crafted two new very special "super instruments" for the T-03 synth. "Living Saw Bass" and "Living Square Bass" push our acclaimed DRIFT™ algorithm to its limits with ultra-animated living, breathing, real analog movement of the oscillator to bring the T-03 synth to life like never before. Some may even find the analog movement to be too much!
For those that savor the organic dimension of the true VCO sound, however, these new instruments will take your Syntronik T-03 to the next dimension. Use these two instruments as the starting point for your own sound design by adjusting the Cutoff, Resonance and Filter Envelope controls to taste. And for extra deep analog lushness, turn on Oscillator 2 to hear the oscillators interact in a way that of course is not possible on the original hardware synth.
Registered users of the T-03 or full version of Syntronik can download the free bonus content through March 31, 2018 in the regular Sounds Downloads section for Syntronik found at Support/User Area/My Products/Syntronik/Sounds Downloads.