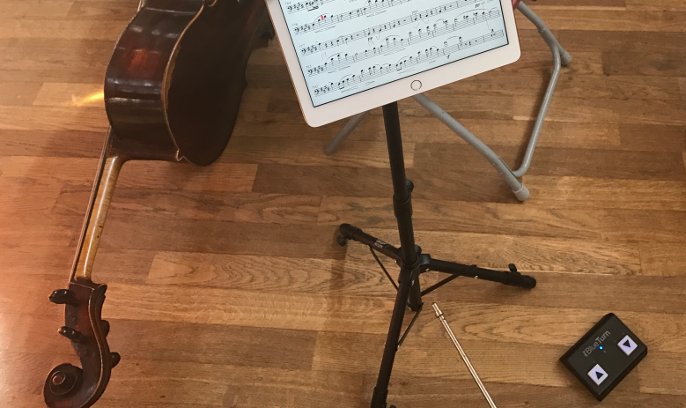 First ever orchestra to perform with screens and iRig BlueTurn only!
5 September 2017
Yorkshire Young Sinfonia (YYS), United Kingdom, whose team is made up of musicians from some of Europe's leading orchestras and conservatoires, is the first youth orchestra to swap sheet music for iPads. Now they have made the switch to rehearse and perform entire concerts with iPads rather than sheet music, thanks to iRig BlueTurn and digital music app Newzik who IK have teamed up with.
"The use of digital technology for orchestras has been advancing in recent times, but as yet no youth orchestra has actually performed an entire concert using only screens," said YYS conductor Tom Hammond. "The potential for saving time in rehearsals, where as any conductor will tell you every last second counts, will be a fantastic development. And no more 'I forgot to bring my sheet music' excuses too as they can access their music from any iPad!"

Switching from paper to digital scores can save both time and resources by reducing printing, copying and annotating. Musicians can use iRig BlueTurn Bluetooth foot pedal to turn pages, and as an added bonus, annotations and bowing markings can be shared with other musicians in real time.

iRig BlueTurn is a backlit silent Bluetooth page turner for iPad, iPhone, Mac and Android that easily lets you turn pages and scroll through material hands-free. If you'd like to streamline the page turning process for your sheet music, lyrics, slides, tabs and other documents, iRig BlueTurn is the answer. iRig BlueTurn lets you take control from the floor with ease. Its two noiseless buttons send HID messages to a synced device via Bluetooth LE technology. Just pair iRig BlueTurn with your device, fire up a compatible app, like Newzik's sheet music reader, and you're ready to go.

The YYS performed the first all-iPad concert on August 19th at Hull City Hall, Yorkshire, earning blanket coverage for their groundbreaking switch in the press, including the BBC.

Learn more about Yorkshire Youth Sinfonia here

Watch BBC interview about the City Hall digital concert here

Learn more about Newzik here

Learn more about iRig BlueTurn here