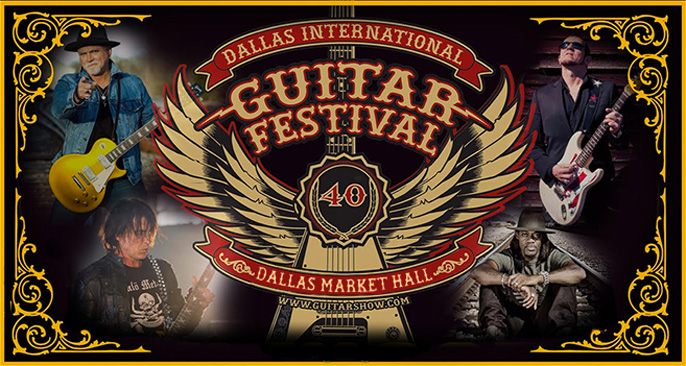 See latest IK products, photos and more happening at this year's DIGF
27 April 2017
IK will be at this years Dallas International Guitar & Music Festival 2017 talking about our latest and greatest products. From May 5 - 7, show attendants of DIGF 2017 can meet up with IK staff at booth #177 & 276 to see and talk about some of our newest products, like iRig Pro I/O, iRig Acoustic Stage, iRig HD 2, iRig Nano Amp and more.
Plus, we will have giveaways, prizes and special artist presentations showcasing how IK accessories are perfect for all your recording needs. Be sure to visit the IK website and our social channels Facebook, Twitter and YouTube for the info and updates on what's going on with IK in 2017.
iRig Pro I/O is designed for all your gear — studio mics, vocal mics, guitars, basses, keyboards, sound modules, MIDI Controllers, you name it! iRig Pro I/O features 24-bit A/D and D/A converters, and a 96kHz sample rate for professional quality audio on the go. You can even supply  48V of phantom power to the XLR jack for your active condensers. Plus, you can dial in the perfect and precise amount of gain with the new marked gain control knob. iRig Pro I/O also features a 1/4" Hi-Z input that easily handles passive and active pickup configurations. iRig Pro I/O features a new 1/8" stereo headphone out with preamp and level control, making it compatible with even the most recent iOS devices.

iRig Acoustic Stage is the new hi-tech solution for accurately reproducing the full sound of acoustic guitars and other instruments with studio-quality sound live on stage and in the studio.  Capture the full rich sound of your acoustic guitar without sacrificing your mobility while performing with iRig Acoustic Stage.

iRig HD 2 raises the bar for guitarists and bassists to play, perform and record with their device at a higher level either while on the go or in their studio with 96khz sound, an integrated headphone output, a ¼" Amplifier output, full AmpliTube versions and more.

iRig Nano Amp is a super-compact, battery-powered, self-contained micro amp and interface for iOS that players can use by itself, with headphones or even an external speaker cabinet —up to a 4x12"! But what makes it more versatile than any other micro amp available is that it features the iRig circuitry so you can plug your iPhone or iPad into it with the included TRRS cable and tap into the limitless world of AmpliTube guitar tone and more.
Dallas International Guitar & Music Festival (DIGF)
Dallas Market Hall
2200 Stemmons Freeway
Dallas, TX 75207
(214) 879-8330