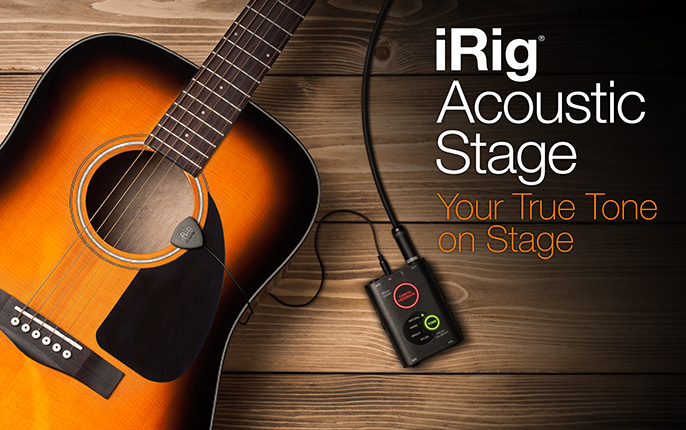 Join IK at a music store near you to get hands on with iRig Acoustic Stage
16 March 2017
Finding the right tone for your favorite acoustic guitar for live performances can be a challenge. IK Multimedia offers a revolutionary and convenient solution with iRig Acoustic Stage. This is a truly advanced digital microphone system for not only your acoustic guitar but for other acoustic instruments as well. It combines an advanced surface mount micro electronic microphone system with a high quality preamp and a powerful DSP processing unit that offers a better solution to the traditional challenge of getting great acoustic sound. Join IK Multimedia Product Specialists for giveaways, prizes and discounts at these special events and hear it for yourself.
The "Your True Tone on Stage" with iRig Acoustic Stage US Tour kicks off on April 6th, 2017 at Guitar Center San Diego from 6:00pm to 8:00pm. The tour will span across the world at several locations including United States, Italy, Japan, Latin America and more.
If you would like to attend, you can register for each event here. Keep an eye on IK's site, socials and forum as we continue to add dates. We look forward to seeing you there!
iRig Acoustic Stage US Tour Dates:
Pricing and availability
iRig Acoustic Stage is available for just $/€99.99* through the IK online store or music retailers near you.

*All prices excluding taxes