February 25th, 2017 - Registration is FREE
17 February 2017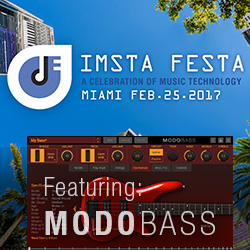 IK Multimedia will be hosting a Master Class featuring MODO BASS at IMSTA FESTA Miami at SAE on Feb 25th, 2017. MODO BASS is the first physically modeled electric bass. Learn how you can get the best possible bass sound from a virtual instrument with the realism, credibility and authenticity for the most accurate and inspiring performances and recordings. Don't miss this class, seats are limited! Register now!
On Saturday February 25th, the International Music Software Trade Association (IMSTA) and SAE Institute Miami host IMSTA FESTA, a celebration of music technology packed with Panels, Workshops & Master Classes, Demonstrations, Song reviews and so much more. Hosting industry experts in an environment where music-makers can network, interact and learn with them face-to-face, this annual one-day event is not to be missed.
Please register now, click here for the MODO BASS Master Class registration.
Note: Registering for a Master Class does not register you to attend IMSTA FESTA MIAMI February 25, 2017. Admission is FREE with REGISTRATION @ imsta.org
DATE, TIME & LOCATION
11:00 AM – 6:00 PM EST, Sat, February 25, 2017
SAE Institute Miami
16051 W Dixie Hwy #200
North Miami Beach, FL 33160