Stop by at the Hal Leonard booth #1018
10 July 2012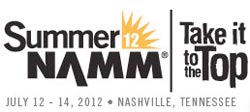 At Summer NAMM 2012 in Nashville, you'll be able to see and try all of the new and upcoming releases from the IK mobile music revolution line-up like: iRig MIX, iRig STOMP and iRig PRE. NAMM Members head out to the Nashville Convention Center, Booth #1018 on July 12-14.
Thursday 10 a.m.-6 p.m.
Friday 10 a.m.-6 p.m.
Saturday 10 a.m.-4 p.m.
iRig MIX - the first mobile mixer for iPhone/iPod touch/iPad
iRig MIX offers the same controls you would expect from a professional DJ mixer (crossfader, cues, EQ and volume controls, etc.) in an ultra-compact mobile mixer that can be used with a huge variety of iOS DJ mixing and other apps.
iRig STOMP - the first stompbox guitar interface for iPhone/iPod touch/iPad
Rig STOMP is based on the wildly popular AmpliTube iRig interface and is compatible with any iOS guitar / amp / instrument app. For the first time, you can integrate your favorite iOS signal processing apps into your existing live pedalboard setup for enhanced tone shaping and effects processing using an iPhone/iPod touch or iPad.
iRig PRE -the first studio quality mic preamp for iPhone/iPod touch/iPad
iRig PRE allows you to use your favorite high-quality stage or studio mics with their iOS device.
The microphone plugs directly into the standard XLR connector of iRig PRE with no need for extra cables or adapters.