Featuring interactive demo stations, live performances and more on June 15th and June 28th
31 May 2013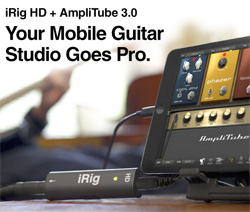 iRig HD is our new high-quality guitar/bass interface for iPhone, iPod touch, iPad and Mac. We have two special events coming up where you can experience its amazing sound quality for yourself.
June 15th at Guitar Center Hallandale
2pm to 5pm
1101 W Hallandale Beach Blvd
Hallandale Beach, FL 33009
Store phone no: (954) 456-7890
Join us.
June 28th at Sam Ash NYC
6pm to 8pm
333 W 34th St
New York, NY 10001
Store phone no: (212) 719-2299
Join us.

We're offering special gifts and offers if you RSVP in advance and attend, including:
A free iLine audio cable
Special discounts on IK gear on Event Day
Raffle giveaways throughout the day
A chance to win the Ultimate Grand Prize ($500 Value)
RSVP today!