Check out these new videos of our latest products and show recap!
29 January 2015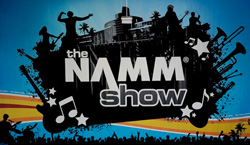 This year's NAMM show was a resounding success. IK unveiled and presented our newest products to the masses at our booth, including iRig Mic Studio, iRig 2, iRig PowerBridge, iRig UA and much more. There was even an impromptu live jam session featuring a ten-piece band that packed the booth and aisles, showcasing the performance power of SampleTank 3, iRig Mic Studio, iRig UA, iRig KEYS and more!
Having pioneered low-latency digital audio interfacing and processing on select Android Samsung Professional Audio devices with iRig HD-A, AmpliTube, iRig MIC HD-A and EZ Voice, IK also showcased a breakthrough universal solution that provides near zero latency and real-time audio processing on a wide assortment of Android devices (running Android 4.0 or higher and compatible with USB host mode/OTG mode).
Be sure to check out the playlist of recap videos below (shot live from NAMM 2015). Also visit and follow our social channels like Facebook, Twitter, YouTube and Instagram for our live coverage posts from the show.
(individual video links below):
‪iRig Mic Studio ultra-portable large-diaphragm digital microphone for all platforms‬
iRig 2 - The sequel to the most popular mobile guitar interface

iRig PowerBridge Universal charging solution for all iRig accessories

iRig UA - the first universal Android guitar processor/interface

Wrap-up highlights