Celebrate IK's 20th Anniversary in our NEW Room 210B
23 December 2015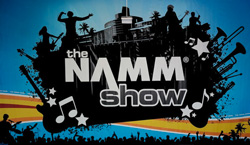 2016 marks the 20th Anniversary of IK Multimedia, and in the tech world that's quite a testament to the cutting-edge innovation that IK products deliver to musicians around the globe. We'll be celebrating in grand style at NAMM, room 210B on the second level of the Anaheim Convention Center.
A few planned events include a Press Reception with new product introductions on Friday evening, January 22 beginning at 5:00 pm in Room 210B. There will also be a private dealer/distributor reception on Saturday, January 23 beginning at 5:00 pm. This reception is by invitation only, so please reply to your IK Regional Sales Manager for attendance.
Other planned events include daily mastering presentations with multiple Grammy award-winning and one of the industry's top Mastering Engineers, Gavin Lurssen. Gavin will be presenting a seminar style workshop on mastering while unveiling a completely new product — another industry first for IK Multimedia.
Jordan Rudess, keyboardist extraordinaire from Dream Theater will be performing with a Miroslav Philharmonik 2, and there will be other guest artist appearances throughout the weekend. Also scheduled to appear are other international guitarists and rock stars.
Can't make it to the show? Visit the IK site and our social channels like Facebook, Twitter and YouTube often for the latest and greatest product and industry news.
Winter NAMM Show
Anaheim, California
January 21-24, 2016
Room 210 B
Anaheim Convention Center