IK Multimedia at the Consumer Electronics Show — January 6-9, 2016, South Hall booth 21656
23 December 2015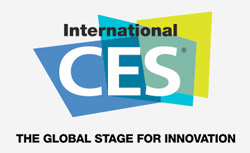 Want to experience innovation and see the hottest trends from the leader in mobile music, audio and video production? Then come to the International Consumer Electronics Show in Las Vegas. The biggest trade show for all the coolest new electronics gear and accessories is coming up January 6-9, 2016.
If you're into the latest trends in consumer electronics and technology, then attendance at the International Consumer Electronics Show is a must.
2016 marks the 20th anniversary of IK Multimedia so come by our booth in the South Hall, # 21656 to check out the hottest new products in mobile music creation and mobile video & audio production, and celebrate with us! Can't make it to the show? Visit the IK website and our social channels Facebook, Twitter and YouTube often for the latest and greatest product and industry news.
Consumer Electronic Show (CES)
Las Vegas, Nevada
January 6-9, 2016
booth 21656 south hall 1 - ground level
Tech East - Las Vegas Convention Center