On June 24-25 in New York City
19 June 2015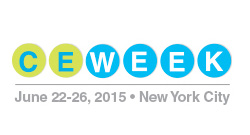 See new IK products like iRig UA, Mic Studio, iRig HD-A, iRig Pads, iRig 2 and much more in action at CE Week in New York City. CE Week is the Consumer Electronic industry's official mid-year meeting, conference and new technology showcase. Drop by booth #15 to see the latest from IK.
CE Week Line Shows and Exhibit are at the Metropolitan Pavilion and Altman Building, 125 West 18th Street, New York City.
June 24 – Show floor open to all attendees at 110am -7:30pm
June 25 – Open to all attendees at 9:30am – 3pm
.
Now in its 9th year, the CE Week show draws more than 3,000 press, buyers, analysts and tech influencers. Bringing together leading manufacturers and innovative start-ups for a week of conferences, exhibitions, workshops and networking events.