Watch the highlights and interview from his recent headlining performance in Shanghai
24 October 2014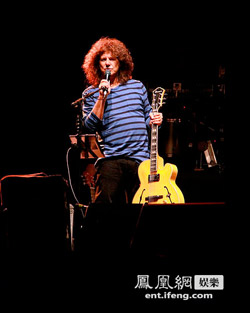 Pat Metheny is an American jazz guitarist and composer, whose style incorporates elements of progressive and contemporary jazz, post-bop, latin jazz and jazz fusion. Metheny has had three gold albums and won 20 Grammy Awards over the course of his 40-year career. For his live shows, his microphone stand adapter of choice for his iPad is an iKlip 2.
Last week Friday, Pat Metheny performed a headline 2.5 hour set for the opening night of the tenth anniversary of one of China's top jazz events, the JZ Festival in Shanghai. Metheny's Friday concert featured music from spanning his 40-year career, ahead of the weekend event backed up by his new Unity Band project.
In addition to his iKlip 2 and iPad, Metheny also brought one of his own inventions on stage, the Pikasso — a 42-string harp-guitar hybrid, his signature instrument since 1984.
To read the full article click here
To purchase iKlip 2 click here