Acclaimed music producers Adam Blackstone and Devine Evans use IK gear for JT's performance at this year's awards
27 August 2013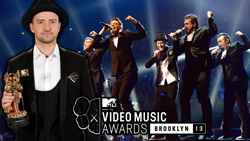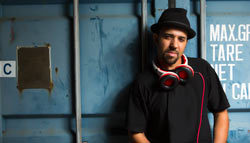 IK Multimedia had an exclusive interview last week with renowned music director/multi-instrumentalist Adam Blackstone and Grammy-winning producer/engineer Devine Evans backstage at the Fillmore in Miami Beach, where Justin Timberlake and musical staff were rehearsing for their performance at the 2013 Video Music Awards.
Adam Blackstone and Devine Evans selected IK Multimedia music creation products including the Total Studio 3 Bundle, iRig HD, iRig KEYS, and iKlip 2 to help them create music beds and instrumental tracks for Timberlake's primetime VMA performance.
Adam Blackstone has been the musical director for some of the top performers in the music industry (with recent credits including Musical Director for the VMA Awards 2013 with Justin Timberlake and Legends Of Summer Tour with Justin Timberlake and Jay-Z).
Adam used SampleMoog and Miroslav Philharmonik (for strings) from IK's Total Studio 3 Bundle (which features a full suite of music production plug-ins) for the Justin Timberlake performance with guitarists Mike Scott and Elliott Ives, as well as for the overall sonic programming for the show's main theme.
Devine Evans has been a creative force of nature in the music world for over 15 years, winning multiple Grammy Awards as a songwriter, producer, engineer and music programmer along the way. He's worked with many of the music industry's highest-profile heavyweights including Nicki Minaj, Mary J Blige, Timberlake, Alicia Keys, Britney, Rihanna and many others.
Blackstone, Evans, and their chosen IK products all helped contribute to Timberlake's dazzling, 15-minute extended performance Sunday night at the VMA's where the singer took home the most coveted award: Video of the Year!