"Thanks, IK, for making groovy software!"
26 February 2013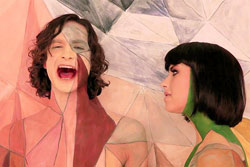 Gotye with Kimbra in the video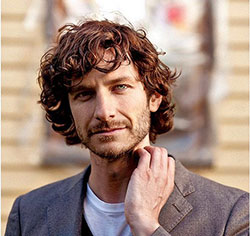 Wally De Backer aka Gotye
Winner of three Grammys, including Record of the Year plus Number 1 in the Billboard charts, Gotye's massive single "Somebody That I Used to Know" from the album "Making Mirrors" has been a global phenomenon – with almost 400 MILLION YouTube views, and still growing. And naturally, Wally De Backer, Gotye's real name, is an IK fan!
He began recording his third album, Making Mirrors, in March 2011 in his own studio in Melbourne, Australia. "Somebody That I Used to Know" was the 3rd track on the album and was released as a single in July 2011.
Wally has made extensive use of SampleMoog and SampleTron, he told us:
"I used SampleTron in Somebody That I Used To Know for the flute part in Kimbra's verse, and also in the choruses. It was the Mellotron flutes, there may have been Chamberlins too".
The band also uses them when playing live:
"Tim Shiel (samples and keyboards in my band) and I use both SampleMoog and SampleTron in our live performances also. We're using them on multiple computers!"
He then continued:
"I've used IK Multimedia's SampleTron and SampleMoog extensively during the recording of Making Mirrors and in the Gotye live show. They are excellent multi-samplers, with good control over layering and manipulating patches. And there's a broad selection of hard-to-find instruments represented. Thanks, IK, for making groovy software!"

Check out the video of "Somebody That I Used to Know" - listen carefully to the flute sound behind Kimbra's voice when she starts singing, unmistakably SampleTron!
You'll hear it again, together with SampleMoog, throughout the Making Mirrors album.
For full information about the music of Gotye, we recommend a visit to his website here.
Photo by Cybele Malinowski, reproduced by kind permission